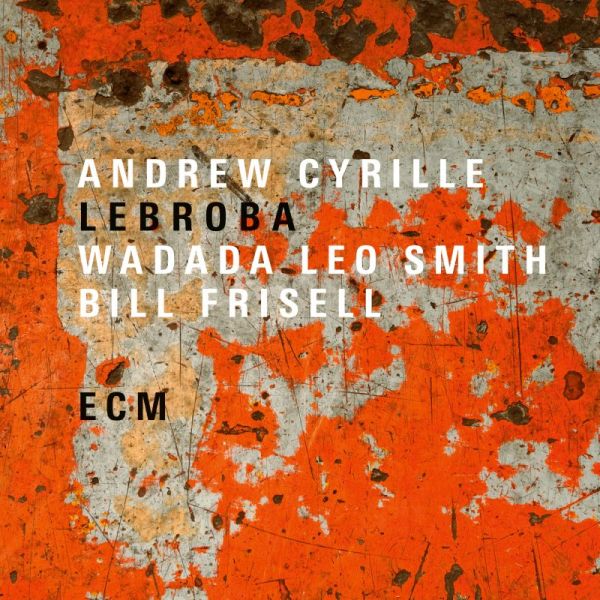 Andrew Cyrille, Wadada Leo Smith, Bill Frisell, "Lebroba" - skaņuplate, 33.3 RPM, ECM Records.
Šis albums pieejams arī CD formātā.
Andrew Cyrille's title Lebroba is a contraction of Leland, Brooklyn and Baltimore, birthplaces of the protagonists of an album bringing together three of creative music's independent thinkers.
Each of them made his first ECM appearance long ago: drummer Andrew Cyrille on Marion Brown's Afternoon of a Georgia Faun (1970), trumpeter Wadada Leo Smith on his own classic Divine Love (1978), and guitarist Bill Frisell on Eberhard Weber's Fluid Rustle (1979); these are, of course, players of enduring influence.
Frisell contributed to Cyrille's previous ECM disc The Declaration of Musical Independence, but Lebroba marks a first-time meeting for the guitarist and Wadada Leo Smith.
A generous leader, Cyrille gives plenty of room to his cohorts, and all three musicians bring in compositions, with "Turiya", Wadada's elegant dedication to Alice Coltrane, unfurling slowly over its 17-minute duration.
In his own pieces, including the title track and the closing "Pretty Beauty", Cyrille rarely puts the focus on the drums, preferring to play melodically and interactively, sensitive to pitch and to space.
There are references to West African music and the blues as well as the history of jazz drumming, but Cyrille's priority today is an elliptical style in which meter is implied rather than stated.

Tracklist:
A1 Worried Woman, Music By – Bill Frisell - 7:35
A2 Turiya:Alice Coltrane / Meditations And Dreams:Love, Music By – Wadada Leo Smith - 17:24
B1 Lebroba, Music By – Andrew Cyrille - 5:44
B2 TGD, Music By – Andrew Cyrille, Bill Frisell, Wadada Leo Smith - 5:17
B3 Pretty Beauty, Music By – Andrew Cyrille - 6:24
Personnel:
Andrew Cyrille - Drums
Wadada Leo Smith - Trumpet
Bill Frisell - Guitar
Recorded: July 2017, Reservoir Studios, New York.
Released: 2.11.2018.
Catalogue No: ECM 2589
Barcode: 602577055638