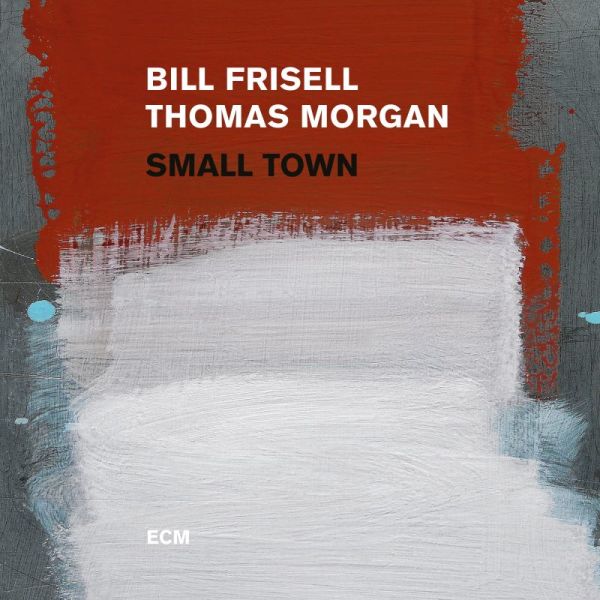 Bill Frisell, Thomas Morgan, "Small Town" - dubultā skaņuplate, 33.3 RPM, ECM Records.
Šis albums pieejams arī CD formātā.
Small Town presents guitarist Bill Frisell and bassist Thomas Morgan in a program of duets, the poetic chemistry of their playing captured live at New York's hallowed Village Vanguard. Frisell made his debut as a leader for ECM in 1983 with the similarly intimate In Line. The guitarist's rich history with the label also includes multiple recordings by his iconic cooperative trio with Paul Motian and Joe Lovano, culminating in Time and Time Again in 2007.
Small Town begins with a tribute to Motian in the form of a searching, 11-minute interpretation of the late drummer's composition "It Should've Happened a Long Time Ago," the duo's counterpoint yielding a hushed power. Morgan has appeared on several ECM albums of late, as bassist of choice for Tomasz Stanko, Jakob Bro, David Virelles, Giovanni Guidi and Masabumi Kikuchi. Small Town sees Frisell and Morgan pay homage to jazz elder Lee Konitz with his "Subconscious Lee," and there are several country/blues-accented Frisell originals, including the hauntingly melodic title track. The duo caps the set with an inimitable treatment of John Barry's famous James Bond theme "Goldfinger."

Tracklist:
A01. It Should Have Happened A Long Time Ago
A02. Subconscious Lee
B01. Song For Andrew No.1
B02. Wildwood Flower
C01. Small Town
C02. What A Party
D01. Poet – Pearl
D02. Goldfinger
Personnel:
Bill Frisell - Guitar
Thomas Morgan - Double Bass
Recorded: At Village Vanguard, New York, March 10-11, 2016.
Released: 26.05.2017.
Catalogue No: ECM 2525
Barcode: 602557544107