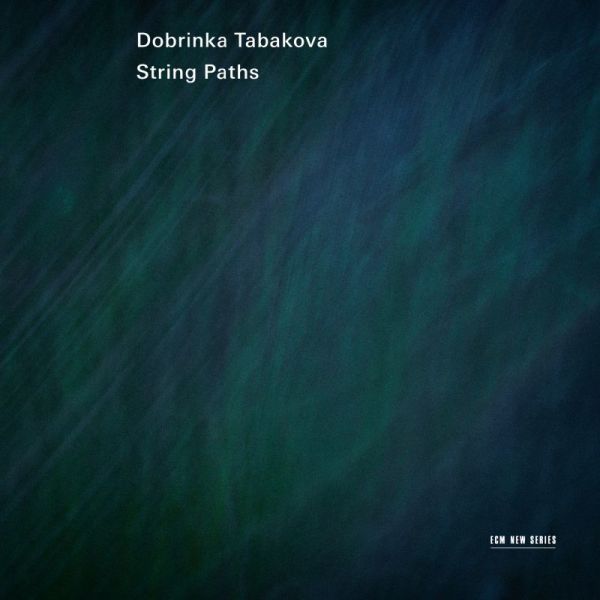 Dobrinka Tabakova, "String Paths" - CD izdevums, ECM Records.
ECM New Series presents the first full album devoted to the music of Dobrinka Tabakova, a composer born in Bulgaria in 1980 but raised from a young age in London. In Tabakova's music – richly melodic, texturally sensuous, often emotionally radiant – there resides the new and the familiar, or rather the familiar within the new, and vice versa; there are the spirits of East and West coursing through the pieces, usually hand in hand; and just as the composer's technical virtuosity is apparent, she possesses a desire, and a gift, for direct communication that can be heard in virtually every measure. The recording features Tabakova's Concerto for Cello & Strings and the Rameau-channeling Suite in Old Style for viola and chamber orchestra, as well as three chamber works: the string trio Insight, the string septet Such Different Paths and a trio for violin, accordion and double-bass, Frozen River Flows.
The performers include star violinist Janine Jansen and several of Tabakova's former conservatory colleagues: violinist Roman Mints, violist-conductor Max Rysanov and cellist Kristina Blaumane, principal with the London Philharmonic Orchestra.

Tracklist:
1 Insight 9:35
Concerto For Cello And Strings
2 I. Turbulent, Tense 7:19
3 Il. Longing 8:42
4 Ill. Radiant 4:52
5 Frozen River Flows 6:12
Suite In Old Style
6 I. Prelude: Fanfare From The Balconies - Back From Hunting - Through Mirrored Corridors 6:01
7 Il. The Rose Garden By Moonlight 7:30
8 Ill. Riddle Of The Barrel-Organ Player - Postlude: Hunting And Finale 5:04
9 Such Different Paths 16:57
Recorded: Recorded March/April 2011,
at National Philhamonic Hall, Vilnius.
"Such different paths" recorded June 2011,
at Jesus-Christus-Kirche Dahlem, Berlin.
Mixed and mastered at Rainbow Studio in Oslo.
Personnel:
Roman Mints - Violin
Maxim Rysanov - Viola, Conductor
Kristina Blaumane - Cello
Raimondas Sviackevičius - Accordion
Donatas Bagurskas - Double Bass
Vaiva Eidukaitytė-Storastienė - Harpsichord
Lithuanian Chamber Orchestra:
Dzeraldas Bidva - Concertmaster
Janine Jansen - Violin
Julia-Maria Kretz - Violin
Amihai Grosz - Viola
Torleif Thedéen - Cello
Boris Andrianov - Cello
Stacey Watton - Double Bass
Released: 17.05.2013.
Catalogue No: ECM 2239
Barcode: 028947648260