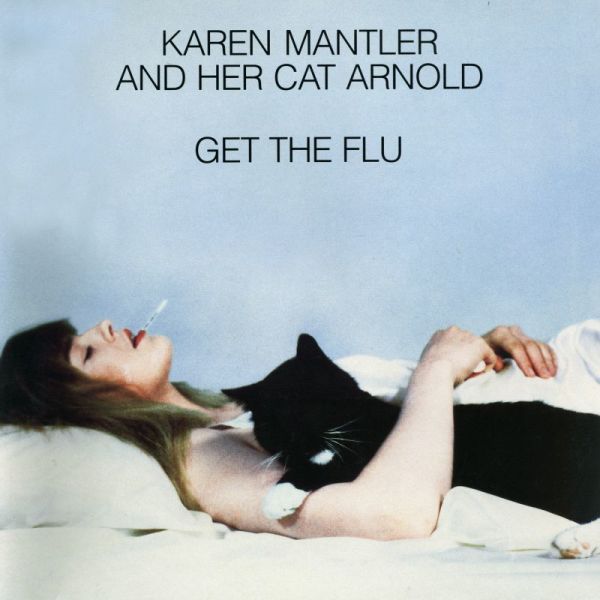 Karen Mantler And Her Cat Arnold, "Get The Flu" (LP) - skaņuplate, 33.3 RPM, ECM Records.
Karen Mantler And Her Cat Arnold comprises the offspring of famous (or infamous) musicians who cling to each other for moral and musical support. Singer Eric Mingus and bassist Jonathan Sanborn are indeed the sons of Charles and David, respectively. Drummer Ethan Winogrand, who also works with the group Unknown Gender, is the son of noted photographer Garry Winogrand. Trumpeter Steven Bernstein must be somebody's son, but he is not Leonard's.

Keyboardist Steve Weisberg was featured on his own XtraWATT album I Can't Stand Another Night Alone..., recorded in 1985, and has also appeared on Hal Willner's tributes to Weill and Disney. Weisberg brought guitarist Marc Muller into the line-up. Muller's credits include work with the Spencer Davis Group. And according to Karen, baritone player Pablo Calogero was an obvious choice for her band because he lived just down the road from the Bley/Mantler colony in Woodstock.

There is nothing in jazz quite like Karen Mantler And Her Cat Arnold, unless it's her mother's I Hate To Sing album. For other correspondances one has to look towards rock, where naiveté and wide-eyed innocence can be virtues.Karen Mantler celebrates the ordinary or elevates minor tribulations (e.g. influenza, wrapping of Xmas gifts) into existential dilemmas. The marked difference between Karen and her pop contemporaries is in the music: Karen has better chords - and better soloists - at her disposal. She has also developed further her unadorned but effective harmonica style.

All the songs on Get The Flu are written by Karen with the exception of the old chestnut "Mean To Me" (previously sung by everyone from Ella Fitzgerald to Rosemary Clooney). Here, the band is augmented by Karen's parents, Mike Mantler and Carla Bley (on trumpet and C-melody saxophone, respectively), and by co-producer Steve Swallow (on flugelhorn).

Tracklist:
A1

The Flu -

5:57
A2

I Love Christmas -

4:04
A3

Let's Have A Baby -

6:42
A4

My Organ -

5:20
A5

Au Lait -

4:39
B1

Waiting -

5:05
B2

Call A Doctor -

4:29
B3

Good Luck - 4

:08
B4

I'm Not Such A Bad Guy -

5:39
B5

Mean To Me - 3:34
Recorded: Summer 1990, at Grog Kill Studio, Germany.
Released: 1.11.1990.
Personnel:
Karen Mantler - Vocals, Harmonica, Organ
Eric Mingus - Guitar
Steven Bernstein - Trumpet
Pablo Calogero - Baritone Saxophone, Flute
Marc Muller - Guitar
Steve Weisberg - Keyboards
Jonathan Sanborn - Bass
Ethan Winogrand - Drums
Michael Mantler - Trumpet
Carla Bley - C-Melody Saxophone
Steve Swallow - Flugelhorn
Catalogue No: XtraWatt 5
Barcode: 042284713610