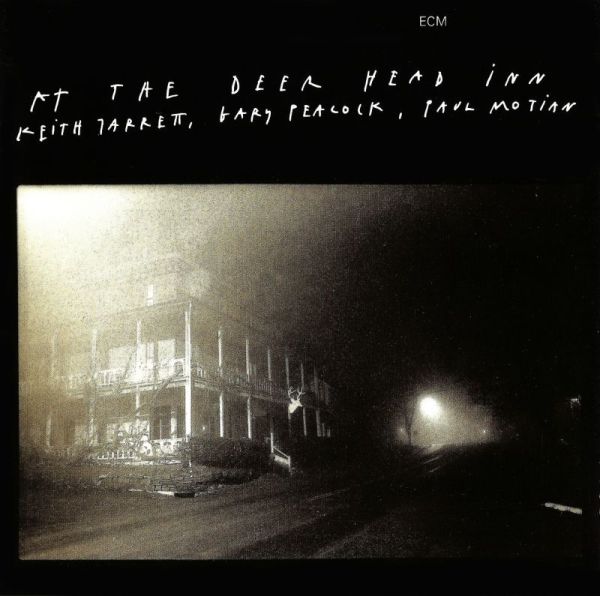 Keith Jarrett, Paul Motian, Gary Peacock, "At The Deer Head Inn" - CD izdevums, ECM Records.
At the Dear Head Inn is an intimate live recording that marked a kind of "homecoming" for Keith Jarrett. The pianist first led a trio at this small club in the Pocono mountains, near Jarrett's Pennsylvania hometown, when he was around 16 years old.
The Deer Head Inn today is a landmark among American jazz clubs and its original owners Bob and Fay Lehr were strongly supportive of Jarrett's early development. When not working there with his own group, he frequently played as a drummer in the house trio led by Johnny Coates. Keith Jarrett returned there in September 1992 to lend his endorsement to the club's "continuing commitment to good music" and brought with him Gary Peacock and Paul Motian, for a gig that was, in the pianist's words, "like a reunion and a jam session at the same time". Not only had Jarrett not played at the Deer Head Inn for three decades, he had not played with Paul Motian – once the cornerstone of the great "American Quartet" – for 16 years.
The music played on At The Deer Head Inn visits the standards repertoire that had become Jarrett's preferred launching pad for improvisations, but the presence of Motian at the traps gives the performance a very different feel from that of Keith's regular trio with Jack DeJohnette.

Tracklist:
1 Solar, Composed By – Miles Davis - 11:21
2 Basin Street Blues, Composed By – Spencer Williams - 9:09
3 Chandra, Composed By – Jaki Byard - 9:21
4 You Don't Know What Love Is, Composed By – D. Raye*, G. DePaul* - 12:55
5 You And The Night And The Music, Composed By – Arthur Schwartz, Howard Dietz* - 5:41
6 Bye Bye Blackbird, Composed By – Ray Henderson - 10:13
7 It's Easy To Remember, Composed By – Richard Rodgers, Lorenz Hart* - 7:47
Personnel:
Keith Jarrett - Piano
Gary Peacock - Double-Bass
Paul Motian - Drums
Recorded: Recorded September 16, 1992, at the Deer Head Inn
Released: 1.04.1994.
Catalogue No: ECM 1531
Barcode: 731451772023