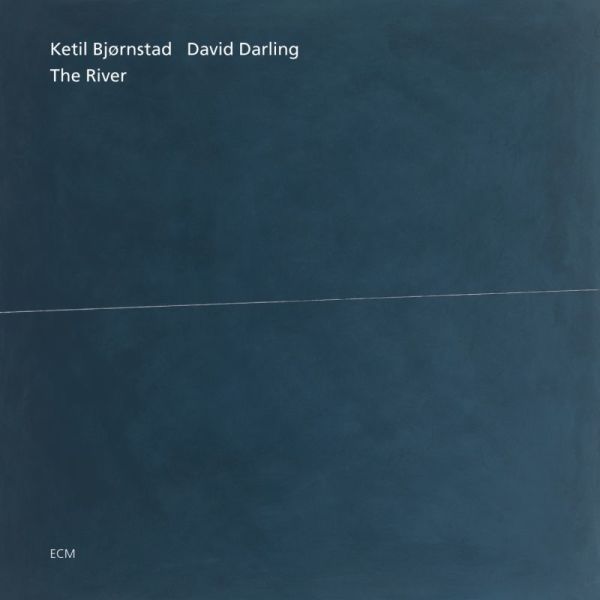 Ketil Bjørnstad, David Darling, "The River" - CD izdevums, ECM Records.
If ever there was a seed beating like a shaded heart in The Sea, it was the twined musical filaments of Ketil Bjørnstad and David Darling. The Norwegian pianist and American cellist spoke on that session like siblings, at points giving us a foretaste of the droning flavors we encounter at the edge of The River. The size and scope of the water have changed in name only, for here is the former's other half, spreading its finger paint across twelve parallel sections. If we note anything different this time around, it's that the horizon feels so close that we could just close our eyes and reach out and there would be the sun.
These are pieces of subtle virtuosity, timbre, and emotional integrity, utterly devoid of self-interest. Their flowering symmetry is a living palindrome of surrender that shuns the pleasures of its philosophies in favor of feeling for its own sake. Though overwhelming at times, there is never a possibility of drowning when water is your air. In this reverie there can be no reveries, for the world is already a dream.

Tracklist:
The River
I, Composed By – William Byrd - 3:11
II 5:46
III, Composed By – William Byrd - 2:30
IV 5:19
V 5:38
VI 5:18
VII 7:37
VIII 4:57
IX 6:26
X 3:23
XI 3:14
XII, Composed By – Orlando Gibbons - 1:42
Personnel:
Ketil Bjørnstad - Piano
David Darling - Cello
Recorded: Recorded June 1996 at Rainbow Studio, Oslo.
Released: 1.01.1997.
Catalogue No: ECM 1593
Barcode: 731453117020