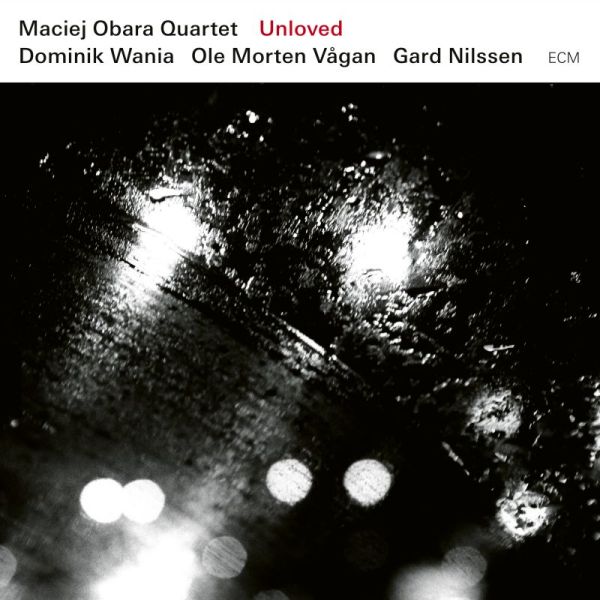 Maciej Obara Quartet, "Unloved" - CD izdevums, ECM Records.
Maciej Obara makes a striking ECM debut with Unloved, an album whose expressive range embraces tender lyricism and impassioned, fiery, powerful playing. With the exception of the title track – written by Krzysztof Komeda (spiritus rector of modern jazz in Poland) for Janusz Nasfeter's film of the same name – themes are by the highly inventive alto saxophonist. Obara emphasizes however that his themes "serve as outlines, from which our sound is set free. My friends are amazing improvisers. I love their ability to move around freely in open spaces, and the way they shape and give colour to what I have in mind…It's more like composing in real time." The players have been developing their concept for several years: Maciej Obara and pianist Dominik Wania, another major talent, first met in a Tomasz Stanko ensemble a decade ago. Since 2012 they have been joined by two highly creative Norwegian musicians, bassist Ole Morten Vågan and drummer Gard Nilssen. (Vågan's ECM credits include work with Thomas Strønen's Time Is A Blind Guide, while Nilssen can be heard on Mathias Eick's Skala.)
Unloved was recorded at Oslo's Rainbow Studio in January 2017 and produced by Manfred Eicher.

Tracklist:
1 Ula, Music By – Maciej Obara - 6:53
2 One For, Music By – Maciej Obara - 6:14
3 Joli Bord, Music By – Maciej Obara - 5:49
4 Unloved, Music By – Krzysztof Komeda - 7:13
5 Sleepwalker, Music By – Maciej Obara - 6:38
6 Echoes, Music By – Maciej Obara - 9:06
7 Storyteller, Music By – Maciej Obara - 6:16
Recorded: Recorded January 2017, Rainbow Studio, Oslo.
Personnel:
Maciej Obara - Alto Saxophone
Dominik Wania - Piano
Ole Morten Vågan - Double Bass
Gard Nilssen - Drums
Released: 3.11.2017.
Catalogue No: ECM 2573
Barcode: 602557645620