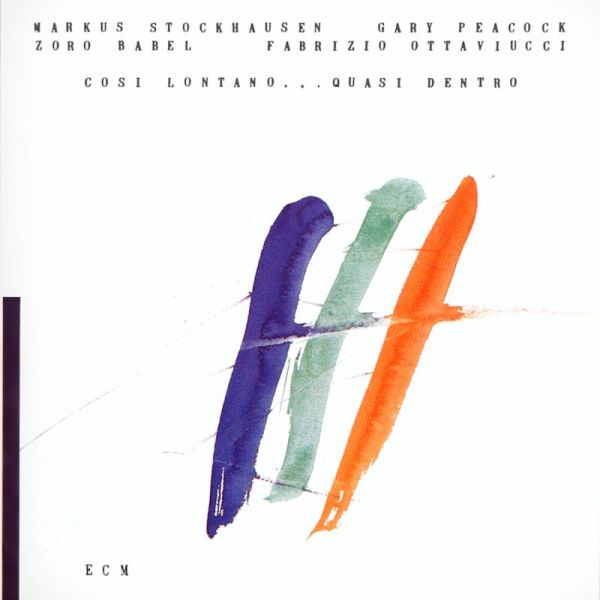 Markus Stockhausen, Gary Peacock, "Cosi Lontano... Quasi Dentro" - skaņuplate, 33.3 RPM, ECM Records.
Trumpeter Markus Stockhausen follows, not leads, this haunting improvisation session with Gary Peacock on bass, Fabrizio Ottaviucci on piano, and Zoro Babel on drums. The colors are as rich as the names on the roster, and work their way through eight improvisatory spaces with varying degrees of clarity. "So Far," for instance, begins like fingers groping along the wall of a pitch-dark room, awakening after an undisclosed period of unconsciousness. Like you, it doesn't know where it is. You hear drums, cymbals, a bass, can feel the rattling of a piano in your ribcage. There is resolution only in that last morsel of starvation, where Peacock's gentle scramble over a drone of horns in "Forward" bursts like a play of light and shadow while Babel plays 52 Pickup on the periphery. "Late" features a rare arco turn from Peacock, who scratches a treatise's worth of indecipherable letters at the center of every galaxy Stockhausen traces around him. Yet the proceedings aren't all slip and slide, for "Across Bridges" gives us a hefty dose of traction, as if throwing a final memory our way before capture. Bass and drums dance in a free conversation with Stockhausen, who lays down a refracted song "In Parallel." This blossoming of after-midnight sentiments and avenues pales into "Breaking," a concise staccato package unwrapped as if by a child at the base of a toppling Christmas tree. Babel sits out "Through," another excursion into starlight, rising only upon the latter waves of "Almost Inside," which over an inescapable hum rise and fall like eventide on the shoreline of a desolate island.

You're not going to find your foot tapping to this one, but your mind will already know its rhythms before the first note graces your ears.
Tracklist:
A1 So Far 10:36
A2 Forward 5:29
A3 Late 4:29
A4 Across Bridges 3:55
B1 In Parallel 4:01
B2 Breaking 2:46
B3 Through 3:36
B4 Almost Inside 8:32
Personnel:
Markus Stockhausen - Trumpet, Flugelhorn, Synthesizer
Gary Peacock - Bass
Fabrizio Ottaviucci - Piano
Zoro Babel - Drums
Recorded: Digital recording, March 1988. Rainbow Studio, Oslo.
Released: 1.02.1989.
Catalogue No: ECM 1371
Barcode: 042283711112