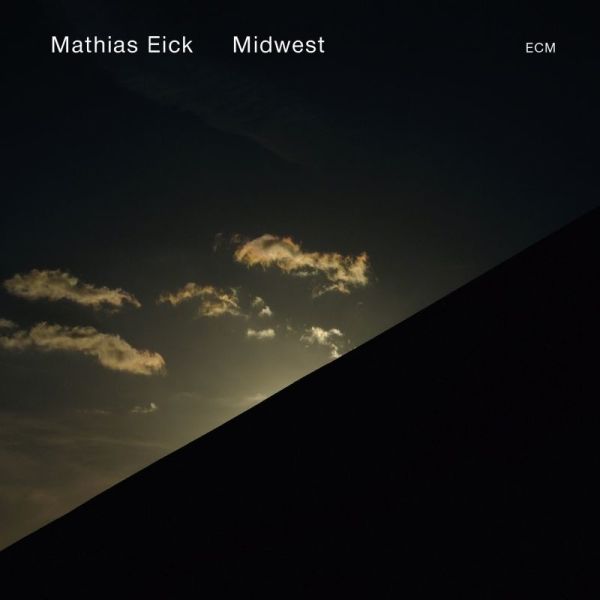 Mathias Eick, "Midwest" (LP) - skaņuplate, 33.3 RPM, ECM Records.
Šis albums pieejams arī CD formātā.
Mathias Eick reflects on distances travelled in this intensely melodic set of original compositions, which makes an imaginative journey from Hem, the tiny Norwegian village where the trumpeter grew up, to the vast plains of Dakota in the American Midwest. It was to the Midwest that hundreds of thousands of Norwegians travelled by sea in the 19th and early 20th centuries - and naturally they took their music with them. In similar spirit Eick, a Norwegian improviser-composer strongly influenced by North American jazz, here reintegrates some of the colours and textures of his native folk music in these newly-created pieces.
In the frontline of the line-up featured here he is partnered by the brilliant violinist Gjermund Larsen, whose roots are in the Norwegian folk tradition. Trumpet and violin exchange lines and soar together above a brilliant rhythm section with Jon Balke at his most lyrical, Helge Norbakken periodically finding pulses that can suggest tribal drumming or buffalo hooves, and the resourceful Mats Eilertsen helping to drive the music forward.
The original inspiration for the album was sparked by a gruelling North American tour: "I'd been out on the road for a long time and was feeling homesick. Then we reached the area called the Rural Midwest and I suddenly felt as if I was home. I had a sense of why the early settlers would want to build their farms there. It reminded me very much of parts of Norway. "

Tracklist:
A1 Midwest - 5:08
A2 Hem - 5:17
A3 March - 5:56
A4 At Sea - 4:02
B1 Dakota - 4:58
B2 Lost - 5:46
B3 Fargo - 6:23
B4 November - 5:02
Recorded: Rainbow Studio, Oslo, May 2014.
Personnel:
Mathias Eick - Trumpet
Gjermund Larsen - Violin
Jon Balke - Piano
Mats Eilertsen - Double Bass
Helge Norbakken - Percussion
Released: 20.03.2015.
Catalogue No: ECM 2410
Barcode: 602547244789