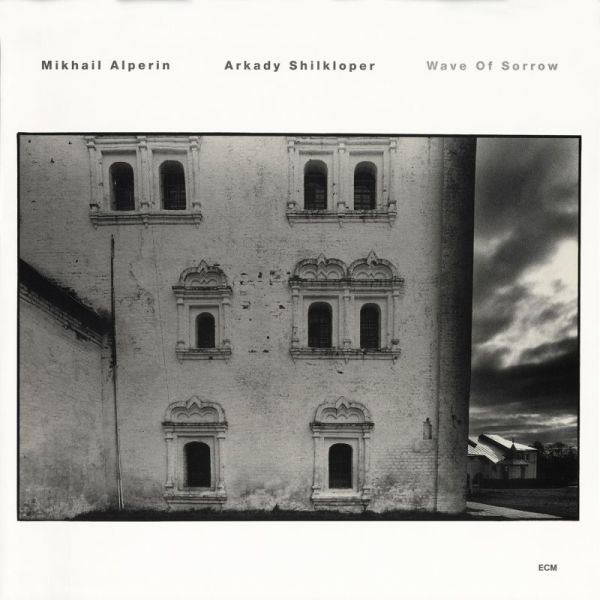 Mikhail Alperin, Arkady Shilkloper, "Wave Of Sorrow" - skaņuplate, 33.3 RPM, ECM Records.
Wave of Sorrow Review by David R. Adler:
An evocative, lyrical recording, Wave of Sorrow documents the musical friendship of Moldovan pianist Mikhail Alperin (known as Misha) and Russian French horn player Arkady Shilkloper. The two draw heavily on Slavic folk influences, even as they mine the kind of airy, contemplative jazz harmonies associated with the ECM school. Shilkloper doubles on flugelhorn and jagdhorn (a curled hunting horn); Alperin takes up the melodica on the very sparse title track and sings wordlessly, even hams it up a bit, on the dervish-like "Unisons." The program balances sprightly Russian dance rhythms like "Poem" with more stately, quasi-classical interludes like "Song" and "Miniature." The session's eclecticism peaks, however, with "Short Story," an outlandish melding of Russian folk references and boogie-woogie piano riffs, with joyous vocal shouts and clapping thrown in for good measure.

Tracklist:
A1 Song 6:35
A2 Poem 4:23
A3 Wave Of Sorrow 6:23
A4 Toccata 5:15
A5 Unisons 4:29
B1 Introduction And Dance In 7/4 4:32
B2 Short Story 4:57
B3 Prelude In B♭ Minor 5:33
B4 Miniature 4:17
B5 Epilogue 1:15
Personnel:
Misha Alperin - Piano, Melodica, Voice
Arkady Shilkloper - French Horn, Jagdhorn, Flugelhorn, Voice
Recorded: Digital recording, July 1989, at Rainbow Studio, Oslo..
Released: 1.02.1990.
Catalogue No: ECM 1396
Barcode: 042283962118