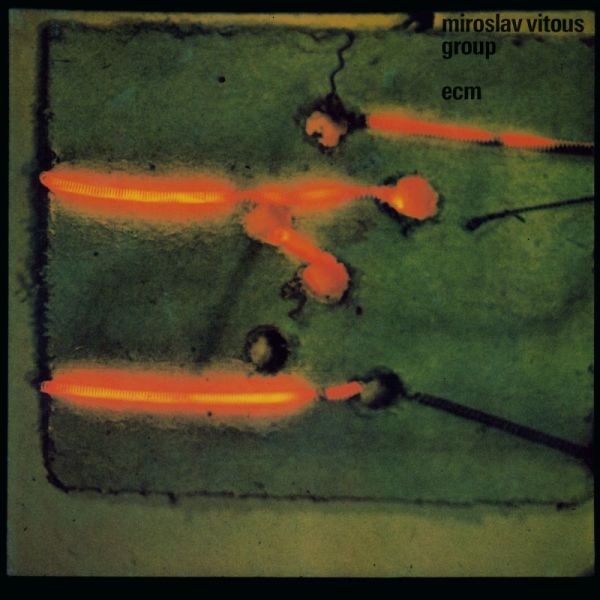 Miroslav Vitous Group, "Miroslav Vitous Group" - skaņuplate, 33.3 RPM, ECM Records.
Between 1979 and 1982, the Miroslav Vitouš Group was the primary outlet for the abundant improvisational skills of leader Vitouš and John Surman. They made three ECM albums: this eponymously-titled disc from 1980 is the middle one. Vitouš and Surman were well-matched in lots of ways, with roots and influences that extended beyond jazz, a love of playing freely, a commitment to using all the sound potential of their respective instruments: Surman singing at the top of the baritone sax's range to match Miroslav's fiddle-like arco flourishes on the double bass. The redoubtable Jon Christensen shared their passion for playing, as did Kenny Kirkland, just 24 at the time of this session, on his way to becoming one of modern jazz's outstanding pianists. Repertoire includes classic Miroslav pieces ("When Face Gets Pale"), collective improvising, and an early sighting of Surman's relentlessly driving "Number Six".

Tracklist:
A1 When Face Gets Pale 5:46
A2 Second Meeting 4:52
A3 Number Six 5:50
A4 Inner Peace 7:21
B1 Interplay 9:56
B2 Gears 6:29
B3 Sleeping Beauty 4:59
B4 Eagle 1:54
Recorded: July 1980, at Talent Studio, Oslo.
Personnel:
Miroslav Vitous - Double Bass
John Surman - Soprano Saxophone, Baritone Saxophone, Bass Clarinet
Kenny Kirkland - Piano
Jon Christensen - Drums
Released: 1.02.1981.
Catalogue No: ECM 1185
Barcode: 602537435111