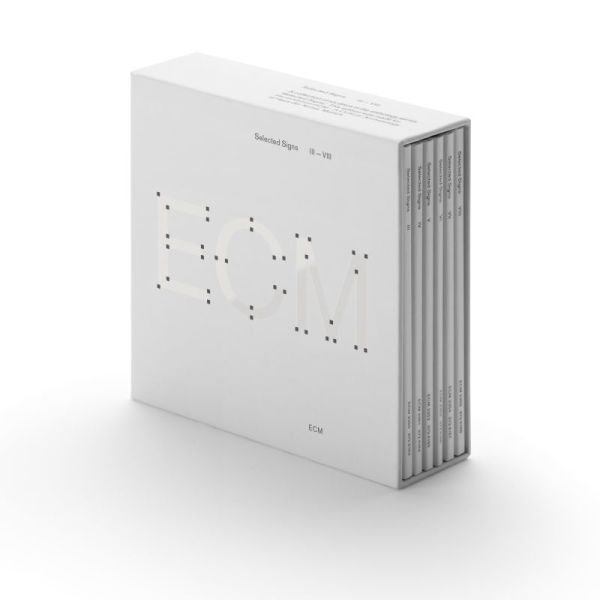 "Selected Signs III-VIII", Various - 6CD izdevums, box set, ECM Records.
In the winter of 2012/2013, the Haus der Kunst in Munich held an exhibition entitled "ECM – A Cultural Archaeology." It was much more than an overview of the story of a music label. Appropriate to the locale – the Haus der Kunst is one of the very most important exhibition venues for contemporary art – curators Okwui Enwezor and Markus Müller attempted to capture the company's individuality and significance. Whereas the early years were central – the encounter of the artistic avant-garde with great demands on musical consciousness – the exhibition also provided a look at the aesthetic variety associated with ECM, from graphic art to film, from literature to theatre.
Manfred Eicher and Steve Lake created a series of recordings especially for the exhibition, in unitary form and packaged in a box. The idea was not so much to provide a soundtrack for a walk through the Haus der Kunst rooms (although that would have been possible) as to furnish an ideal commentary for the objects on display. At times, the commentary takes up some of the events and figures; more often, however, it develops topics, opens up other approaches to the music, brings it back to rudimentary acoustical experiences, and contrasts historical material with new recordings from entirely different musical contexts, thus creating a unique tour of ECM, as it was in the past and as it is now – pictures at an imaginary exhibition reflecting a musical cosmos.

Music selected for the exhibition
ECM – A Cultural Archaeology
at Haus der Kunst, Munich
Released: 21.06.2013.
Catalogue No: ECM 2350-55
Barcode: 602537289714