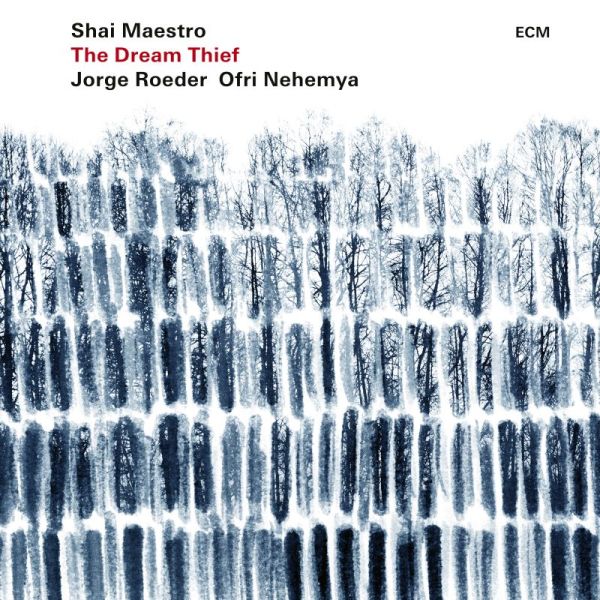 Shai Maestro Trio, "The Dream Thief" - CD izdevums, ECM Records.
The first ECM leader date for Shai Maestro (following his label debut with Theo Bleckmann on Elegy) features the gifted pianist fronting his superlative trio with fellow Israeli Ofri Nehemya on drums and Peruvian bassist Jorge Roeder, and also playing alone. A solo interpretation of Matti Caspi's "My Second Childhood" opens the curtain on a programme of characteristically thoughtful Maestro originals, each one with a story to tell.
"Hearing the Shai Maestro Trio is like awakening to a new world", All About Jazz has suggested. "Expressions of joy, introspective thoughts and heightened intensity all come to the fore." Maestro's differentiated touch is special; he can convey a range of fleeting emotions in a single phrase. A deconstruction of "These Foolish Things", the album's sole standard, serves as a prelude to "What Else Needs To Happen", a sombre meditation on inner city violence and its aftermath.
The Dream Thief was recorded at Lugano's Auditorio Stelio Molo RSI in April 2018, and produced by Manfred Eicher, and issued on the eve of a European tour with concerts in Spain, Germany, Netherlands, Sweden, Belgium, Italy, France, and Switzerland.

Tracklist:
My Second Childhood 4:39
The Forgotten Village 6:21
The Dream Thief 8:29
A Moon's Tale 2:36
Lifeline 3:54
Choral 3:50
New River, New Water 6:59
These Foolish Things (Remind Me Of You) 4:24
What Else Needs To Happen 7:08
Personnel:
Shai Maestro - Piano
Jorge Roeder - Double Bass
Ofri Nehemya - Drums
Recorded: Recorded April 2018,
Auditorio Stelio Molo RSI, Lugano.
Released: 28.09.2018.
Catalogue No: ECM 2616
Barcode: 602567711124