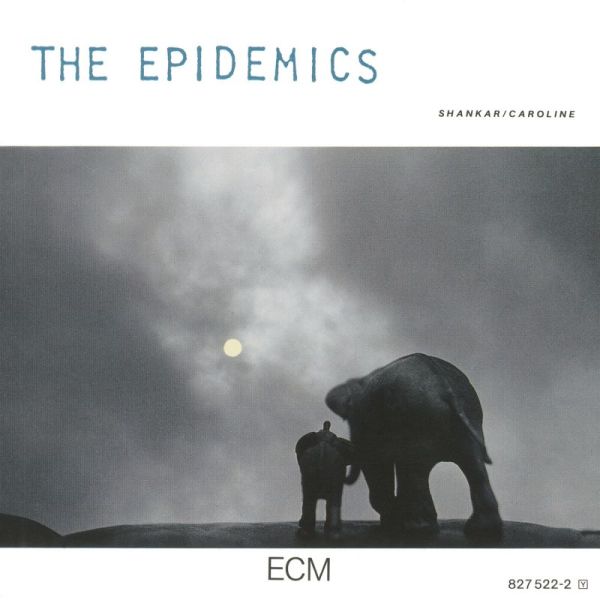 Shankar, Caroline, "The Epidemics" - skaņuplate, 33.3 RPM, ECM Records.
Frome ecmreviews: "When I first slid this CD into my computer, the Gracenote Media Database upped my anticipation by filling in its genre as "Traditional." Which is exactly what this album is not. But if you're looking for a quirky lollipop that has baffled ECM and Shankar enthusiasts for decades, by all means lick away. With endearing vocals by Caroline, not to mention the collaborative edge of having guitar legend Steve Vai and bassist Percy Jones (of Brand X fame) in the same studio, one can only imagine the possibilities of throwing Shankar's astounding virtuosity into such a milieu.
On that note, the musicianship is healthy and the record not without its charm, which may or may not convince you by the third track, "Situations." I just find myself yearning for Shankar's violin, which only makes a few lilting, if fiery, appearances on tracks like "Don't I Know You." Vai also has his moments in the sun (check his solo in "You Don't Love Me Anymore"). I imagine this music may have nostalgic value for some, and far be it from me to criticize what might for them be a very real attachment. All I can say is that I'm jealous they can see what I cannot. With inane lyrics like those from the last song ("Full Moon") quoted above and a lackluster mix that all but drowns Jones's snaking lines, it's difficult to gauge the artists' intentions. Tongue-in-cheek experiment? Worldly statement? Either way, I feel lost, and welcome anyone who knows better to help me find my way."

Tracklist:
A1 Never Take No For An Answer 3:26
A2 What Would I Do Without You 4:06
A3 Situations 5:50
A4 You Don't Love Me Any More 3:34
B1 You Can Be Anything 3:50
B2 No Cure 3:33
B3 Don't I Know You 3:54
B4 Give An Inch 3:18
B5 Full Moon 3:20
Personnel:
Shankar - Vocals, 10-String Double Violin, Synthesizer, Drum Machine
Caroline - Vocals, Synthesizer, Tamboura
Steve Vai - Guitar
Gilbert Kaufman - Synthesizer
Percy Jones - Bass
Recorded: February 1985, at Stickwork Studios, New York City.
Released: 1.01.1986.
Catalogue No: ECM 1308
Barcode: 042282752215