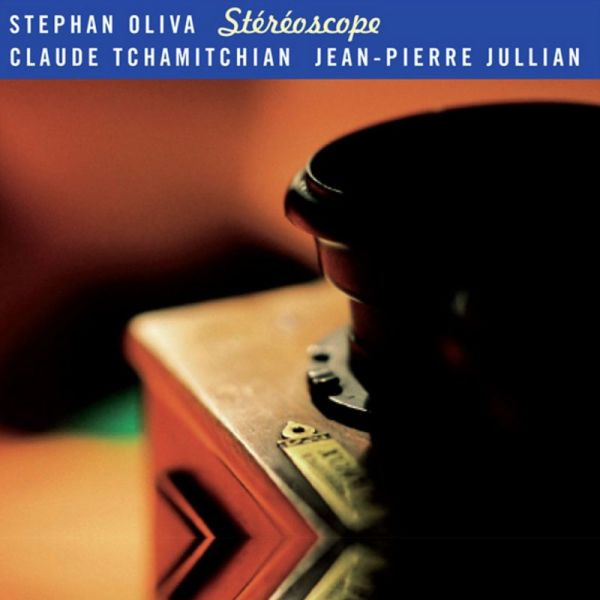 Stephan Oliva Trio, "Stereoscope" - CD izdevums, ECM Records.
On September 30th 1990, Gérard de Haro recorded Stephan Oliva in trio with Claude Tchamitchian and Jean-Pierre Jullian in his then anonymous studio, not yet known as La Buissonne. Stephan produced this debut album himself. The occasion was also the beginning of a long, firm friendship between these four artists, with Gérard as sound engineer on thirteen of the sixteen albums Stephan has recorded under his own name, and Stephan also present on several of Tchamitchian's Lousadzak adventures, as well as pianist on the wonderful, southern-flavoured albums Jullian has made on the émouvance label, (incidentally, the bass player's label) – all have been recorded by Gérard…
In autumn 1991, the recording was released on Jean-Jacques Pussiau's prestigious OWL label. Opinions were unanimous; public and press alike acclaimed this new musician and his highly individual poetic universe. In 2008, Jean-Pierre Jullian was working on an oratorio project, as well as a creation for seven musicians and two dancers about the birth of the sun and the moon, based on American Indian legends. As for Claude Tchamitchian, he was busy exploring his own origins in duos and trios with Gagik Mouradian and Bijan Chemirani, whilst taking part in the new directions Andy Emler's trio and Megaoctet were taking at the time. Stephan Oliva went on a solo tour with his project around Bernard Hermann's film music, whilst continuing to explore the origins of African-American music with François Raulin. He also wanted to go back to the trio formula with bass and drums (the last time he'd played thus was in 2001 with Bruno Chevillon and Paul Motian), so the suggestion to get this trio back together again was a natural move, especially after another old friend, Marc Thouvenot, gave him a nudge along the way by offering to be joint producer. Stephan composed a new repertoire and re-arranged some titles, then tried to find out when the studio would be available. At this stage, he had absolutely no idea how he was going to put the record on the market. What could have been more natural, then, than Gerard's suggestion that the production be released on his label.
Eighteen years after that first, fateful meeting!
Tracklist:
Stereoscope 4:18
Labyrinthe 4:56
An Happy Child 3:26
Cercles 3:57
Cecile Seule 2:27
Portée Disparue 3:35
Bangkok 4:33
Cortège 5:03
Neuf Et Demi 2:32
Nostalgia 2:04
Hallucinose 2:11
Sylvie Et Les Americains Illusion Desillusion 4:41
Illusion Désillusion 2:24
Personnel:
Stephan Oliva - Piano, Compositions
Claude Tchamitchian - Double Bass
Jean-Pierre Jullian - Drums
Recorded: Recorded (May 5-6, 2009), Mixed (Mau 28-29, 2009) and Mastered at Studio La Buissonne, Pernes les Fontaines.
Released: 22.10.2009.
Catalogue No: RJAL 397008
Barcode: 3700079700494