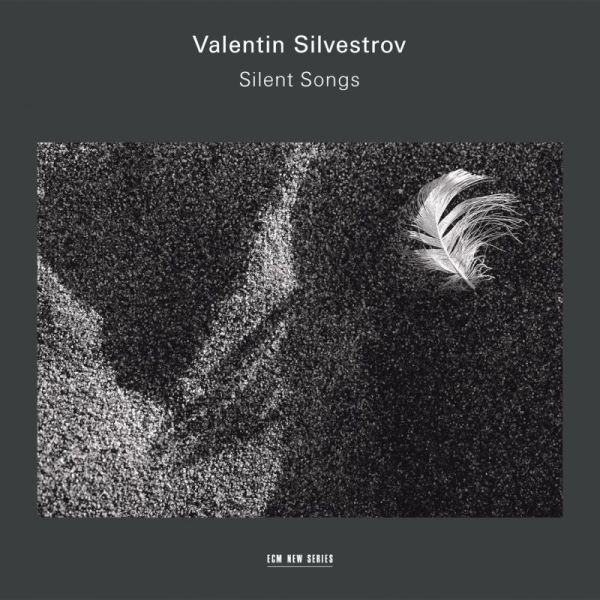 Valentin Silvestrov, "Silent Songs" - dubult-CD izdevums, ECM Records.
Following the chamber music album "leggiero, pesante", the orchestral "Metamusik/Postludium", and the "Requiem for Larissa", ECM New Series is pleased to present a most remarkable recording of Valentin Silvestrov's "Stille Lieder", a song cycle of great importance in the development and perception of the Ukrainian composer's work, in a double album that also includes the premiere recording of his "Four Songs after Osip Mandelstam"."We may feel we have always known these songs," writes Paul Griffiths in the liner notes to the "Silent Songs", "and in a sense we have. The first hearing will not seem the first, though we will remember it for that slow shock of familiarity, how it awakens memories… Yet the songs are new – startlingly new for 1974-77, when composers in the Soviet Union were stretching boundaries…Just when composers could at last make big personal statement in public, here was one letting the past express itself, in the private dimensions of whispered song".

Tracklist:
Silent Songs
I. Five Songs After Poems By Yevgeny Baratynsky, John Keats, Alexander Pushkin And Taras Shevchenko
1-1 Song Can Tend The Ailing Spirit (Baratynsky) 3:25
1-2 There Were Some Storms And Blizzards (Baratynsky) 3:36
1-3 La Belle Dame Sans Merci (Keats) 6:59
1-4 O Melancholy Time (Pushkin) 3:09
1-5 Farewell, O World, O Earth (Shevchenko) 5:03
II. Eleven Songs After Poems By Alexander Pushkin, Osip Mandelstam, Mikhail Lermontov, Fyodor Tyutchev, Perce Bysshe Shelley And Sergei Yesenin
1-6 What Meaning Has My Name For You? (Pushkin) 2:31
1-7 I Will Tell You With Unswerving Frankness (Mandelstam) 3:36
1-8 I'm Drinking To Mary (Pushkin) 4:23
1-9 Winter Journey (Pushkin) 5:21
1-10 White, A Solitary Sail (Lermontov) 4:20
1-11 I Met You (Tyutchev) 6:06
1-12 The Isle (Shelley) 3:52
2-1 Something Tender, Blue, Unspoken (Yesenin) 5:51
2-2 Autumn Song (Yesenin) 4:25
2-3 Swamps And Marshes (Yesenin) 4:52
2-4 Winter Evening (Pushkin) 6:00
III. Three Songs After Poems By Mikhail Lermontov
2-5 When The Cornfield, Yellowing, Stirs 4:31
2-6 I Set Out On The Road Alone 5:31
2-7 Mountain Summits 4:51
IV. Five Songs After Poems By Alexander Pushkin, Fyodor Tyutchev, Osip Mandelstam And Vasily Zhukovsky
2-8 Elegy. Verses Composed At Night, At A Time Of Insomnia (Pushkin) 3:38
2-9 Choral. A Vengeful God (Tyutchev) 2:10
2-10 Meditation. It's Time, My Friend, It's Time! (Pushkin) 4:30
2-11 Ode. Schubert On Water (Mandelstam) 3:52
2-12 Postludium. Those Sweet Companions (Zhukovsky) 3:18
Four Songs After Osip Mandelstam
2-13 My Lashes Are Pricking 4:28
2-14 I Don't Know When 1:38
2-15 For The Thunderous Grandeur Of Ages To Come 3:25
2-16 The Oaks Drink From A Cold Vessel 3:45
Personnel:
Sergey Yakovenko - Baritone
Ilya Scheps - Piano
Recorded: Recorded 1986 in Moscow.
Released: 18.10.2004.
Catalogue No: ECM 1898/99
Barcode: 602498214244