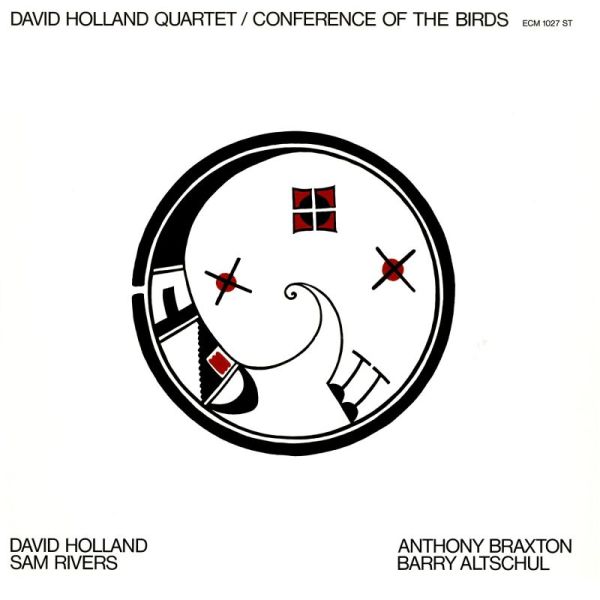 David Holland Quartet, "Conference Of The Birds" - skaņuplate, 33.3 RPM, ECM Records.
Šis albums pieejams arī CD formātā.
It had been preceded by ECM duo albums with Barre Phillips and with Derek Bailey as well as the cooperative band Circle's great Paris Concert, but Conference of the Birds, recorded in 1972, was Dave Holland's first album as a full-fledged leader.
An album of driving, progressive jazz it is also of historical significance as the only occasion when Sam Rivers and Anthony Braxton, two of the music's most strikingly original saxophonists, recorded together. Inside Dave's compositions they could meet – if briefly - and share ideas. This summit meeting received raves from the press. "If you've found the new music lacking in swing, cohesion and variety, get to this album," insisted Down Beat in a five star review. "It's Holland's date but each man contributes equally. The six Holland tunes offer great improvisational frameworks, and his bass playing, both arco and pizzicato, couldn't be better… Don't miss this one."
Initially published in June 1973, vinyl is reissued in April 2017 as audiophile pressing taken from the original analog tapes.

Tracklist:
A1 Four Winds 6:33
A2 Q & A 8:32
A3 Conference Of The Birds 4:34
B1 Interception 8:21
B2 Now Here (Nowhere) 4:33
B3 See-Saw 6:41
Recorded: November 30, 1972. At Allegro Studio, New York City.
Personnel:
Dave Holland - Bass
Sam Rivers - Reeds, Flute
Anthony Braxton - Reeds, Flute
Barry Altschul - Percussion, Marimba
Released: 7.04.2017.
Catalogue No: ECM 1027
Barcode: 0602547746245