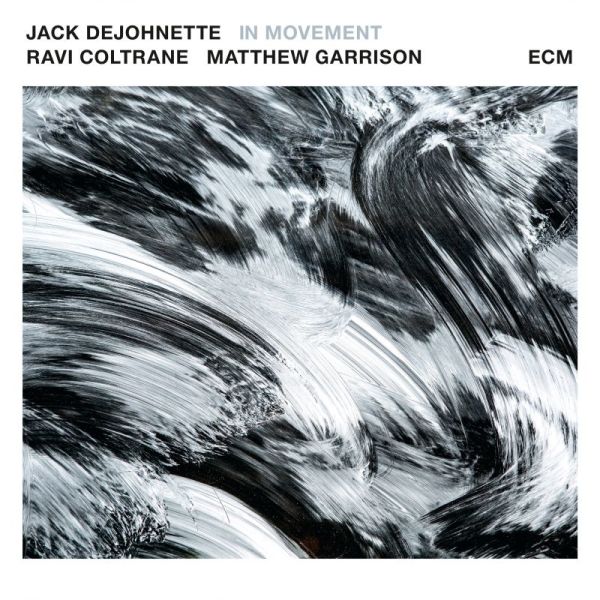 Jack DeJohnette, Ravi Coltrane, Matthew Garrison, "In Movement" - CD izdevums, ECM Records.
There is a lot of history concentrated in Jack DeJohnette's adventurous new trio. Fifty years ago, as a guest with John Coltrane's group, Jack DeJohnette played with the fathers of Ravi Coltrane and Matthew Garrison, and the programme of In Movement opens with Coltrane's harrowing and still pertinent elegy "Alabama". "Serpentine Fire" is from the songbook of Earth, Wind and Fire, offered as a tribute to Maurice White – who also collaborated with Jack in the early years. "The Two Jimmys" is an hommage to Jimi Hendrix and Jimmy Garrison, innovators both, and "Rashied" salutes the late Rashied Ali, another great drummer from Coltrane's cosmos. For all the wealth of references, this is indeed a band in movement, taking the music forward, as the title track affirms. Ravi Coltrane and Matt Garrison, in their ECM debuts, both respond magnificently to DeJohnette's driving drumming, Ravi with superb solos, Garrison with lean bass lines and imaginative looping electronics. Jack DeJohnette: "We are connected at a very high and extremely personal level that I believe comes through in the music."
In Movement was recorded at New York's Avatar Studios in October 2015, and produced by Manfred Eicher.

Tracklist:
Alabama 6:51
In Movement 9:21
Two Jimmys 8:14
Blue In Green 5:57
Serpentine Fire 9:02
Lydia 4:46
Rashied 5:48
Soulful Ballad 4:22
Personnel:
Jack DeJohnette - Drums, Piano, Electronic Percussion
Ravi Coltrane - Tenor, Soprano and Sopranino Saxophones
Matthew Garrison - Electric Bass, Electronics
Recorded: Recorded October 2015, Avatar Studios, New York.
Released: 6.05.2016.
Catalogue No: ECM 2488
Barcode: 602547815989