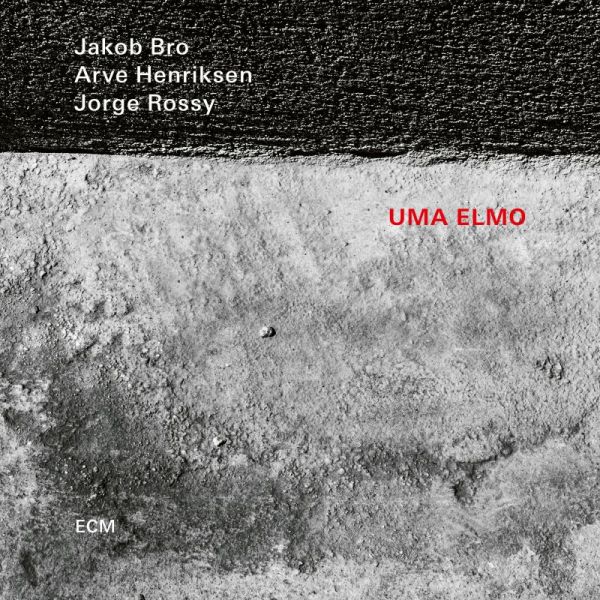 Jakob Bro, Arve Henriksen, Jorge Rossy, "Uma Elmo" - skaņuplate, 33.3 RPM, ECM Records.
Šis albums pieejams arī CD formātā.
With Uma Elmo, his fifth album as a leader for ECM, Danish guitarist Jakob Bro presents a new trio featuring Norwegian trumpeter Arve Henriksen and Spanish drummer Jorge Rossy. Astonishingly, given the trio's musical synergy, the first time these three musicians ever performed together was for the album's sessions at the Swiss Radio studio in Lugano, with ECM founder Manfred Eicher producing.
Uma Elmo reaffirms the observation about Bro's work by London Jazz News that "there is no hurry to this music, but there is great depth." Among the album's highlights is opener "Reconstructing a Dream," a darkly lyrical reverie. "To Stanko" is Bro's hushed tribute to the late, great Polish trumpeter Tomasz Stanko, who featured the guitarist in his quintet for the ECM album Dark Eyes. Another homage to a late elder is "Music for Black Pigeons," which was given its evocative title by saxophone sage Lee Konitz. Listeners will recognize Henriksen's whispering, poetic sound from his 2008 ECM album Cartography, as well as his collaborations for the label with Trio Mediaeval and Tigran Hamasyan. Rossy is well known to jazz fans on both sides of the Atlantic, particularly for his decade-plus tenure in Brad Mehldau's career-making first trio.
As for the leader, DownBeat aptly noted in its review of his previous ECM album, Bay of Rainbows, that "Bro's guitar is luminous… his music both hypnotic and dramatic."
Tracklist:
A1. Reconstructing A Dream
A2. To Stanko
A3. Beautiful Day
A4. Morning Song
B1. Housework
B2. Sound Flower
B3. Slaraffenland
B4. Morning Song (Var.)
Personnel:
Jakob Bro - Guitar
Arve Henriksen - Trumpet, Piccolo Trumpet
Jorge Rossy - Drums
Recorded: In Lugano, August/September 2020.
Released: 12.02.2021.
Catalogue No: ECM 2702
Barcode: 602435427164