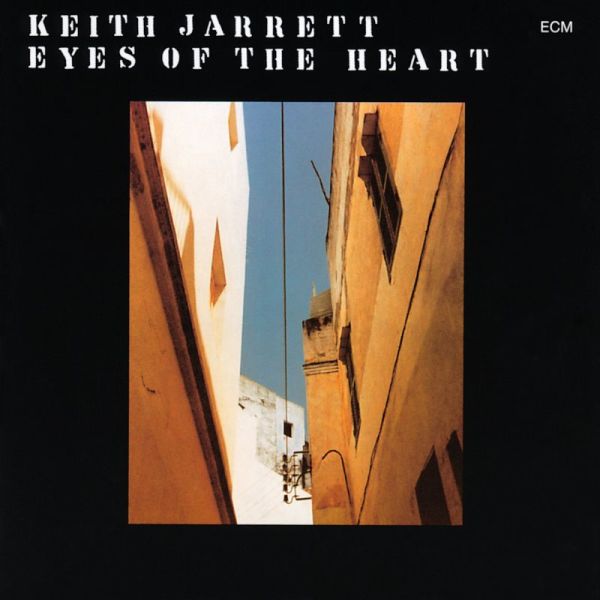 Keith Jarrett, "Eyes Of The Heart" - CD izdevums, ECM Records.
Eyes of The Heart is an album by American pianist Keith Jarrett featuring his "American Quartet", made up of Jarrett himself, Dewey Redman, Charlie Haden and Paul Motian. It was recorded at the Theater am Kornmarkt, Bregenz in Austria in May 1976 and was released in 1979 by ECM Records. The studio album The Survivors' Suite had been recorded one month earlier.
Although recorded the same year before Byablue (released in 1977) and Bop-Be (released in 1978), Eyes of The Heart was the last album released to feature Jarrett's American quartet.
As part of the public farewell and disbanding of Jarrett's "American Quartet" the CD and vinyl issues contained a few notes addressed to its members:
Music is at its best when it carries you along at a level deeper than the music itself and forces you to live in its spaces as well as its notes.
Improvisation is at its best when everyone involved in the music is aware of an intent greater than his own; therefore more his own. Neither of these are common occurrences.
I wish to dedicate this recording to Charlie Haden, Dewey Redman and Paul Motian, all of whom shared the most valuable intimacy with me during the making of this music.
It is not easy.
It is not difficult.
It is.

Tracklist:
1 Eyes Of The Heart (Part One) 17:06
2 Eyes Of The Heart (Part Two) 15:42
3 Encore (a-b-c) 18:01
Recorded: Concert recording, May 1976,
Theater am Kornmarkt, Bregenz (Austria)
Released: 25.05.1979.
Personnel:
Keith Jarrett - Piano, Soprano Saxophone
Dewey Redman - Tenor Saxophone, Tambourine, Maracas
Charlie Haden - Double-Bass
Paul Motian - Drums, Percussion
Catalogue No: ECM 1150
Barcode: 042282547620