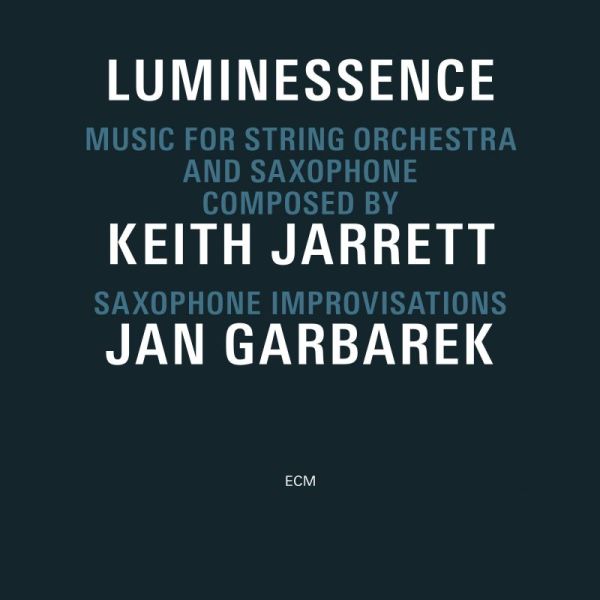 Keith Jarrett, Jan Garbarek, "Luminessence" - CD izdevums, ECM Records.
Luminessence is an album composed by American pianist Keith Jarrett featuring saxophonist Jan Garbarek and the Südfunk-Sinfonieorchester conducted by Mladen Gutesha recorded in April 1974. It was released on the ECM label in 1975. Jarrett does not perform on this album. Gutesha had conducted the Stuttgart strings on "Metamorphosis," from Jarrett's 1974 album In the Light, and would appear as conductor on Arbour Zena (1976).
While the music for string orchestra was notated, the saxophone part was improvised. Producer Manfred Eicher recalled: "Luminessence shows Keith's affinity for Jan Garbarek's playing. He studied Jan's music and the scales he used, and he also got the concept of the harmonic structures – the framework of the piece – with Jan in mind... Jan was indeed honoured that Keith wanted to write this for him." Similarly, Jarrett biographers Ian Carr and Wolfgang Sandner both praised Jarrett's ability to compose a score suited to Garbarek's style and abilities. Carr wrote: "the few melodies Jarrett writes sound like Garbarek improvisations, so great is the rapport between the two men," while Sandner commented that Jarrett "knew which kind of musical background was needed to ignite Jan Garbarek's melancholic saxophone into excursions through the jazz cosmos."

Tracklist:
Numinor 13:54
Windsong 6:34
Luminessence 15:16
Recorded: Recorded April 29 and 30, 1974 at Studio Bauer, Ludwigsburg.
Personnel:
Jan Garbarek - Tenor Saxophone, Soprano Saxophone
Strings of Suedfunk Symphony Orchestra Stuttgart
Mladen Gutesha - Conductor
Released: 1.03.1975.
Catalogue No: ECM 1049
Barcode: 042283930728