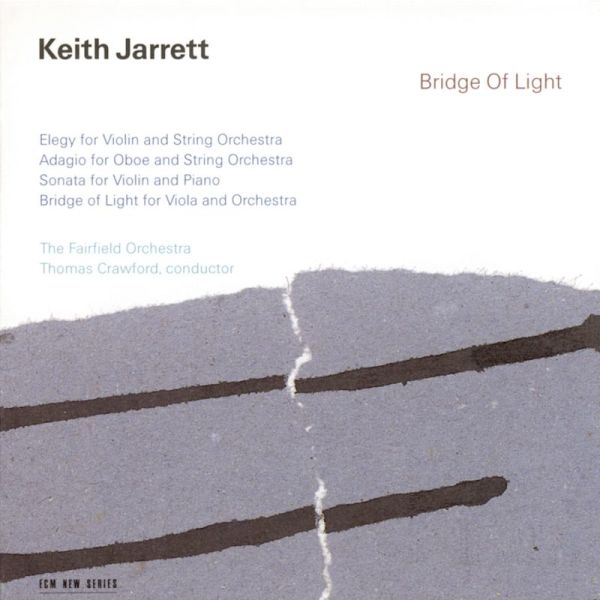 Keith Jarrett, The Fairfield Orchestra, Thomas Crawford, "Bridge Of Light" - CD izdevums, ECM Records.
This album of compositions by Keith Jarrett incorporates Elegy for Violin and String Orchestra, Adagio for Oboe and String Orchestra, Sonata for Violin and Piano and Bridge Of Light, for viola and orchestra. The pieces are linked, the composer explained at the time, by a desire "to praise and contemplate...They are, in a certain way, prayers".
Bridge Of Light was commissioned by violist Patricia McCarty and premiered by the Fairfield Orchestra in 1991.
The Adagio for Oboe (1984) was commissioned by the Pasadena Chamber Orchestra and given its premiere performance by them. As Jarrett put it, the piece "juxtaposes melody with related counterpoint, and is pastoral in essence".
The Sonata for Violin and Piano (1984) was written in a single burst of inspiration: "This came to me (in its entirety) as I wrote. I was thankful for the gift." Jarrett added "It was one of those pieces that tested the speed of my pencil against the incoming flow of ideas. In a way, the five movements are related by their seeming un-relatedness."
The complete sonata was given its premiere performance at New York's Lincoln Center in March 1993, the second movement, "Song", having been first performed at an evening of Jarrett's music in the series Chamber Music Chicago in 1987.
The Elegy for Violin and String Orchestra, dedicated to Jarrett's Hungarian grandmother, was also written in 1984 and premiered in Tokyo in 1986 by the New Japan Orchestra with Koichiro Harada as soloist.

Tracklist:
1 Elegy For Violin And String Orchestra, Violin – Michelle Makarski - 14:50
2 Adagio For Oboe And String Orchestra, Oboe – Marcia Butler - 9:54
Sonata For Violin And Piano, Piano – Keith Jarrett, Violin – Michelle Makarski (27:11)
3 Celebration 6:15
4 Song 7:00
5 Dance 3:09
6 Birth 8:34
7 Dance 2:13
8 Bridge Of Light For Viola And Orchestra, Viola – Patricia McCarty - 17:01
Personnel:
Michelle Makarski - Violin
Keith Jarrett - Piano
Marcia Butler - Oboe
Patricia McCarty - Viola
The Fairfield Orchestra
Thomas Crawford - Conductor
Recorded: Recorded March 1993,
State University of New York, Purchase.
Released: 1.04.1994.
Catalogue No: ECM 1450
Barcode: 028944535020