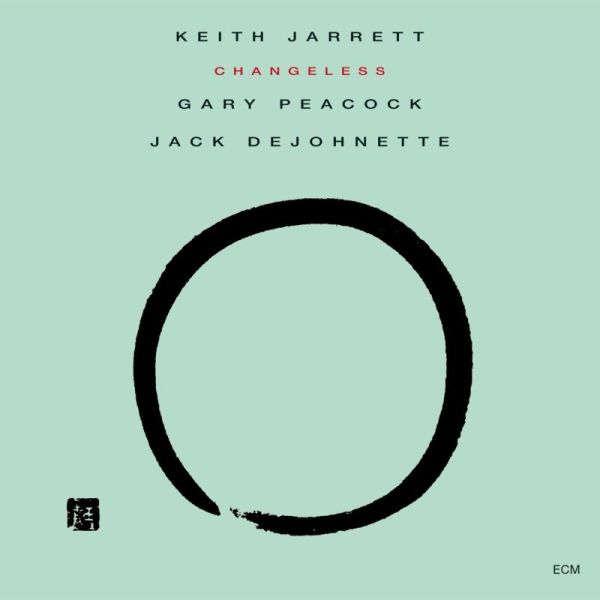 Keith Jarrett Trio (Gary Peacock, Jack DeJohnette), "Changeless" - CD izdevums, ECM Records.
Changeless is a live album by American pianist Keith Jarrett's "Standards Trio" featuring Gary Peacock and Jack DeJohnette recorded in concert in October, 1987 at various venues and released by ECM Records in 1989. According to Jarrett biographer Wolfgang Sandner, with the album, "Jarrett had, at last, combined his free-playing techniques with his trio style."
The AllMusic review by Richard S. Ginell awarded the album 4 stars and states, "This is a triumph, for Jarrett has successfully brought the organically evolving patterns of his solo concerts into the group format ... a genuine collective musical experience."
The authors of The Penguin Guide to Jazz wrote that Changeless contains "original material which is deeply subversive (though also respectfully aware) of the whole tradition of jazz as a system of improvisation on 'the changes'... On Changeless, there are no chord progressions at all; the trio improvises each section in a single key, somewhat in the manner of an Indian raga. The results are impressive and thought-provoking, like everything Jarrett has attempted."
Tracklist:
1 Dancing 8:58
2 Endless 15:28
3 Lifeline 11:31
4 Ecstasy 12:59
Recorded: Digital recordings taken from concerts in Denver (October 14, 1987), Dallas (October 11, 1987), Lexington (October 9, 1987), Houston (October 12, 1987).
Digitally remixed at Rainbow Studio, Oslo.
Personnel:
Keith Jarrett - Piano
Gary Peacock - Double-Bass
Jack DeJohnette - Drums
Released: 1.10.1989.
Catalogue No: ECM 1392
Barcode: 042283961821