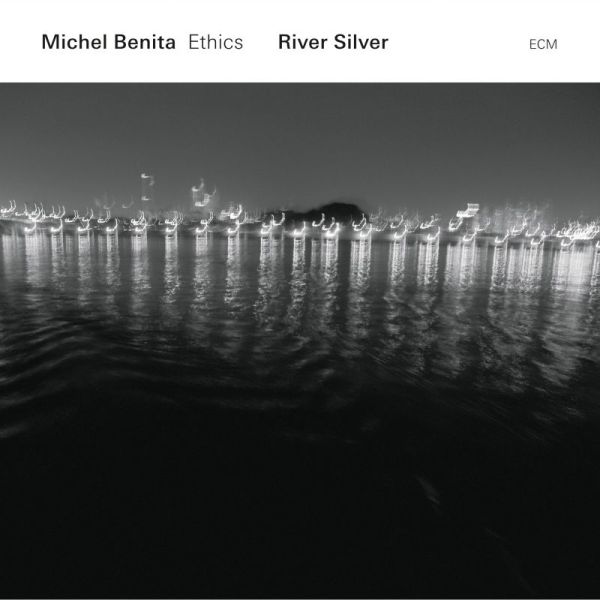 Michel Benita, Ethics, "River Silver" - CD izdevums, ECM Records.
After two exemplary ECM discs in the company of Andy Sheppard, Michel Benita has an album with his own group. The Ethics band is international, and the Algiers-born bassist leads a line-up comprised of a flugelhornist from Fribourg, Switzerland, a koto player from Tokyo, a guitarist from Drøbak, Norway, and a French drummer who once lived in Turkey as a member of the Istanbul Symphony. The group's music, correspondingly, flows - like the glistening river of the title - beyond borders. Alongside his own compositions and a piece by Mieko Miyazaki, Benita includes a tune from Northumbrian UK piper Kathryn Tickell and one from Norwegian composer and organist Eyvind Alnæs (1872-1932). A strongly lyrical tendency prevails, Mathieu Michel's graceful flugelhorn foregrounded, with koto, bass and drums interacting creatively at the band's core. Colours of folk and colours of jazz are blended in Michel Benita's writing, multi-idiomatic in a very natural way . Eivind Aarset's guitars and what Benita calls "organic electronics" gently envelop the music.
The whole sound-picture is finely-realized in the responsive acoustics of the Auditorio Stelio Molo RSI, Lugano, where River Silver was recorded in April 2015, with Manfred Eicher producing.
The album is issued in time for a European tour in January with concerts in France, Germany, Austria, Switzerland and Belgium.

Tracklist:
Back From The Moon 5:49
River Silver 4:37
I See Altitudes 5:54
Off The Coast 6:13
Yeavering 3:46
Toonari 5:58
Hacihi Gatsu 4:43
Lykken 6:02
Snowed In 6:21
Recorded: Recorded April 2015,
Auditorio Stelio Molo RSI, Lugano.
Personnel:
Michel Benita - Double Bass
Matthieu Michel - Flugelhorn
Mieko Miyazaki - Koto
Eivind Aarset - Guitar, Electronics
Philippe Garcia - Drums
Released: 15.01.2016.
Catalogue No: ECM 2483
Barcode: 602547593931