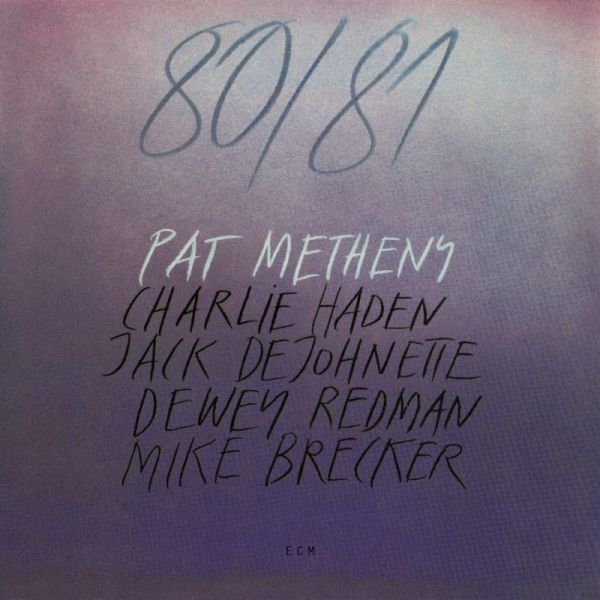 Pat Metheny, "80/81" - dubultā skaņuplate, 33.3 RPM, ECM Records.
Šis albums pieejams arī 2CD formātā.
80/81 is a double album by jazz guitarist Pat Metheny, featuring tenor saxophonists Dewey Redman and Michael Brecker, acoustic bassist Charlie Haden and drummer Jack DeJohnette, which was released in 1980. Metheny toured in the U.S. in fall 1980 with a quartet including Redman, Haden and drummer Paul Motian. In the summer of 1981, he toured Europe with the full 80/81 lineup featured on the album.
In an article at ECM Reviews, Tyran Grillo called the album a "still-fresh sonic concoction", and noted that "With 80/81, Pat Metheny took one step closer to his dream of working with The Prophet of Freedom (a dream he finally achieved with 1985's Song X)". He concluded: "Like much of what Metheny produces, 80/81 is wide open in two ways. First in its far-reaching vision, and second it its willingness to embrace the listener. Like a dolly zoom, he enacts an illusion of simultaneous recession and approach, lit like a fuse that leads not to an explosion, but to more fuse."
JazzTimes included the album in an article titled "10 Best Jazz Albums of the 1980s: Critics' Picks", in which Philip Booth stated: "Enlisting four of the musicians he most admired... the 26-year-old guitarist successfully translated the sound in his head to beautifully open, airy, sometimes urgent recordings."

Tracklist:
Two Folk Songs
A1 1st, Composed By – Pat Metheny - 13:17
A2 2nd, Composed By – Charlie Haden - 7:31
B1 80/81, Composed By – Pat Metheny - 7:28
B2 The Bat, Composed By – Pat Metheny - 5:58
B3 Turnaround, Composed By – Ornette Coleman - 7:05
C1 Open, Composed By – Haden*, Redman*, DeJohnette*, Brecker*, Metheny*, Composed By [Final Theme] – Pat Metheny - 14:25
C2 Pretty Scattered, Composed By – Pat Metheny - 6:56
D1 Every Day (I Thank You), Composed By – Pat Metheny - 13:16
D2 Goin' Ahead, Composed By – Pat Metheny - 3:56
Personnel:
Pat Metheny - Acoustic and Electric Guitars
Charlie Haden - Acoustic Bass
Jack DeJohnette - Drums
Dewey Redman - Tenor Saxophone
Michael Brecker - Tenor Saxophone
Recorded: May 26-29, 1980 at Talent Studios, Oslo.
Release date: 01.09.1980.
Catalogue No: ECM 1180/81
Barcode: 602527278902