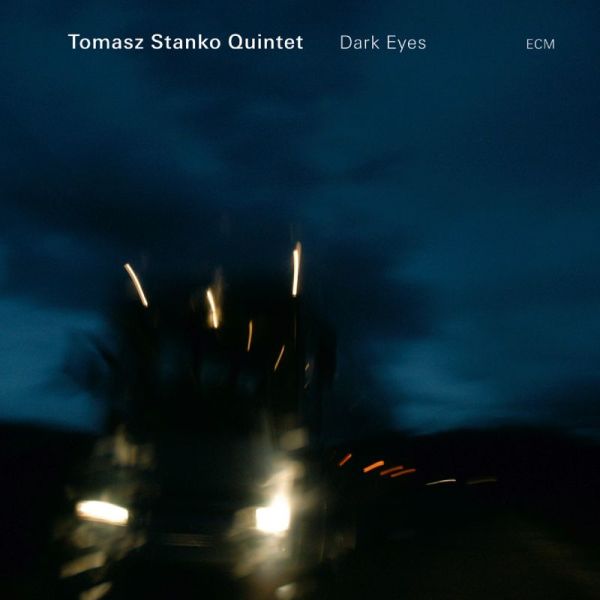 Tomasz Stanko Quintet, "Dark Eyes" - CD izdevums, ECM Records.
Tomasz Stanko's smouldering Slavic soul music and grainy-toned trumpet finds a new context on "Dark Eyes". Like his hero Miles Davis, the Polish jazz master also has an impressive record as talent scout and mentor, and his latest ensemble pools young players from the North of Europe. Tomasz has had strong connections to Finland in particular since the early 1970s when he was part of Edward Vesala's creative circle. Now he welcomes two prodigiously gifted Finns into his group, pianist Alexi Tuomarila and drummer Olavi Louhivuori, both expressive and imaginative players. On "Dark Eyes", Jakob Bro, the young guitarist heard on ECM on Paul Motian's "Garden of Eden" is cast most often in the role of subtle colourist, while fellow Dane Anders Christensen, on electric bass throughout, provides the band's throbbing pulse. The programme features new Stanko compositions, including "The Dark Eyes of Martha Hirsch", inspired by an Oskar Kokoschka canvas, plus a new version of "Last Song" from Tomasz ECM debut "Balladyna", as well as "Dirge for Europe" and "Etiuda baletowa nr. 3" from the pen of Krzysztof Komeda.

Tracklist:
1 So Nice 5:52
2 Terminal 7 5:30
3 The Dark Eyes Of Martha Hirsch 10:03
4 Grand Central 6:25
5 Amsterdam Avenue 6:11
6 Samba Nova 9:23
7 Dirge For Europe 5:29
8 May Sun 2:47
9 Last Song 3:58
10 Etiuda Baletowa No.3 5:49
Personnel:
Tomasz Stanko - Trumpet
Alexi Tuomarila - Piano
Jakob Bro - Guitar
Anders Christensen - Bass
Olavi Louhivuori - Drums
Recorded: Recordings made in April 2009,
at Studios La Buissonne, Pernes-les-Fontaines.
Released: 9.10.2009.
Catalogue No: ECM 2115
Barcode: 602527112664