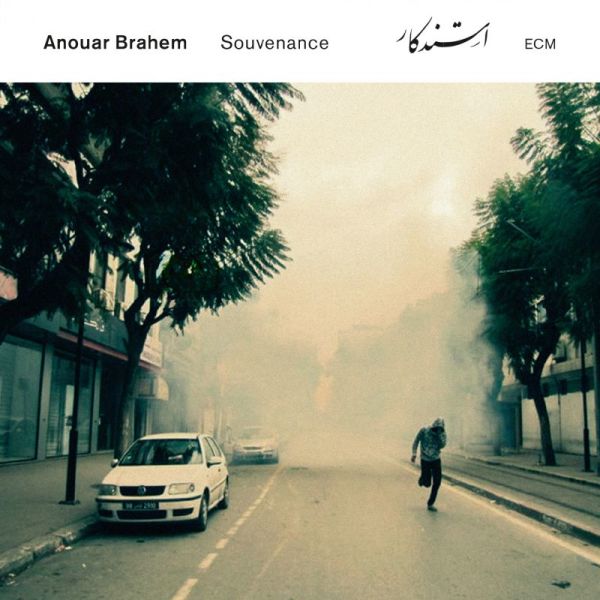 Anouar Brahem, "Souvenance" - dubult-CD izdevums, ECM Records.
The music of Souvenance, by turns graceful, hypnotic, and taut and starkly dramatic, was recorded in 2014 – six years after oud-master Anouar Brahem's last ECM album, "The Astounding Eyes of Rita". "It took a long time to write this music," he acknowledges, noting that his emotional world had been usurped by the unfolding story of political upheaval sweeping first through Tunisia then through the neighbouring countries. Extraordinary waves of change, accompanied by great hopes and fears. "I don't claim a direct link between my compositions and the events taking place in Tunisia," says Anouar, "but I have been profoundly influenced by them." New directions for the music find Francois Couturier returning to the Brahem group, frequently supported by subtle string orchestration. The strings have a glowing transparency and fragility in these pieces, often providing shimmering texture against which the contributions of the quartet members - and, above all, Anouar Brahem's unique oud-playing - stand out in bold relief.
This double album was recorded at the Lugano studio in May 2014, and produced by Manfred Eicher.

Tracklist:
1-1 Improbable Day 12:41
1-2 Ashen Sky 7:35
1-3 Deliverance 5:07
1-4 Souvenance 9:16
1-5 Tunis At Dawn 6:42
1-6 Youssef's Song 10:23
2-1 January 7:19
2-2 Like A Dream 9:40
2-3 On The Road 7:59
2-4 Kasserine 9:35
2-5 Nouvelle Vague 2:40
Personnel:
Anouar Brahem - Oud
François Couturier - Piano
Klaus Gesing - Bass, Clarinet
Björn Meyer - Bass
Pietro Mianiti - Conductor [Orchestra Della Svizzera Italiana]
Recorded: At the Lugano studio in May 2014.
Released: 28.11.2014.
Catalogue No: ECM 2423/24
Barcode: 602537977765