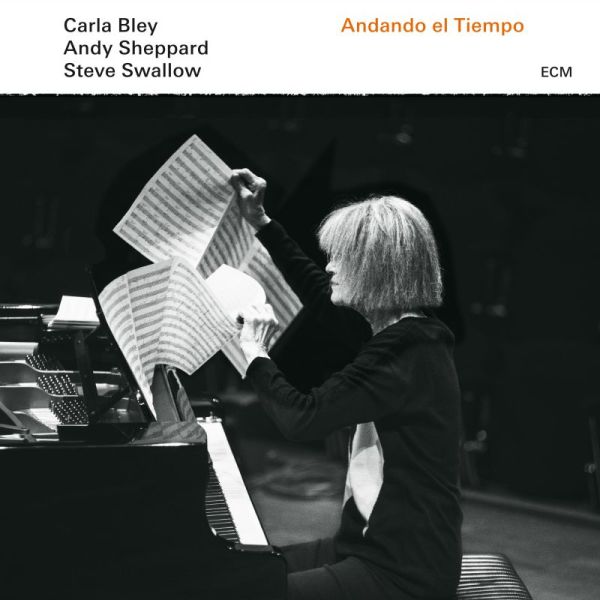 Carla Bley, Andy Sheppard, Steve Swallow, "Andando El Tiempo" - skaņuplate, 33.3 RPM, ECM Records.
Šis albums pieejams arī CD formātā.
Andando el Tiempo features new music of wide emotional compass by Carla Bley, and underlines her originality and resourcefulness as a jazz composer.
"Saints Alive!" sets up animated conversations between the participants with striking statements from Steve Swallow's bass guitar and Andy Sheppard's soprano sax. The stately "Naked Bridges/Diving Brides" draws inspiration from Mendelssohn and the poetry of Paul Haines. And the powerful three part title composition – which addresses the trials and tribulations of recovery from addiction - moves through sorrow to hopefulness and joy. The trio with Sheppard and Swallow has been an ideal vehicle for Carla's writing for more than 20 years and also provides one of the best contexts for her unique piano playing.
Like the critically lauded ECM album Trios (2012), Andando el Tiempo was recorded at Lugano's RSI Studio and produced by Manfred Eicher.

Tracklist:
A1 I Sin Fin 10:23
A2 II Potación De Guaya 9:50
B1 III Camino Al Volver 8:29
B2 Saints Alive! 8:35
B3 Naked Bridges / Diving Brides 10:05
Recorded: November 2015. Auditorio Stelio Molo RSI, Lugano.
Personnel:
Carla Bley - Piano
Andy Sheppard - Soprano and Tenor Saxophones
Steve Swallow - Bass
Released: 6.05.2016.
Catalogue No: ECM 2487
Barcode: 602547848635