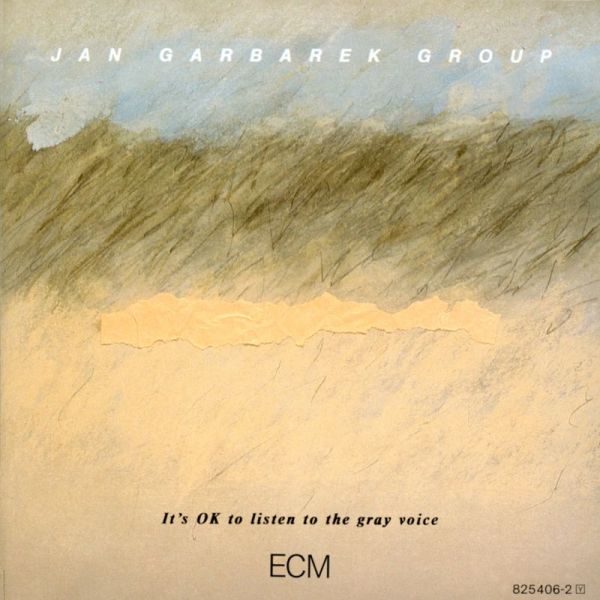 Jan Garbarek Group, "It's Ok To Listen To The Gray Voice" - CD izdevums, ECM Records.
It's OK to Listen to the Gray Voice is an album by the Norwegian saxophonist Jan Garbarek released on the ECM label and performed by Garbarek, David Torn, Eberhard Weber and Michael Di Pasqua.
"Here Garbarek is approaching the extremes of his style, appearing once again with the Jan Garbarek Group. All pieces on this record are titled after quotes from poems by Tomas Tranströmer, and though the actual connection to these poems remains tenuous at best, they do add a provocative element to the pieces themselves, which beg for at least some programmatic interpretation.
Multi-instrumentalist David Torn is primarily responsible for the more aggressive edge this record takes. His guitar lines explode with energy and tension, giving Garbarek a more off-center field to play in — and considering his penchant for excessive restraint, this is a welcome environment to hear him in."
— The Allmusic review by Mark W. B. Allender, giving the album four stars
Tracklist:
1 White Noise Of Forgetfulness 8:22
2 The Crossing Place 9:10
3 One Day In March I Go Down To The Sea And Listen 5:32
4 Mission: To Be Where I Am 8:08
5 It's OK To Phone The Island That Is A Mirage 5:49
6 It's OK To Listen To The Gray Voice 4:41
7 I'm The Knife-Thrower's Partner 0:54
Personnel:
Jan Garbarek - Tenor Saxophone, Soprano Saxophone
David Torn - Guitar, Guitar Synthesizer, DX 7
Eberhard Weber - Bass
Michael DiPasqua - Drums, Percussion
Released: 1.09.1985.
Catalogue No: ECM 1294
Barcode: 042282540621