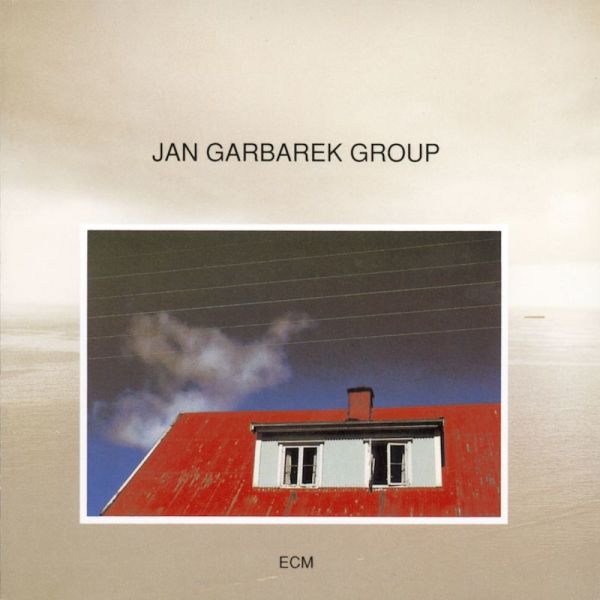 Jan Garbarek Group, "Photo With Blue Sky, White Cloud, Wires, Windows And A Red Roof" - CD izdevums, ECM Records.
Writing of Photo With Blue Sky, White Cloud, Wires, Windows And A Red Roof in Stereo Review, Chris Albertson made the observation that "Garbarek´s style still bears traces of a Coltrane influence, but it reflects more and more the stark clear beauty of his mountainous homeland and the almost painful frugality of rural Scandinavians."
In the eight years between Afric Pepperbird and the recording of Photo With…, the saxophonist had periodically researched Norwegian folk music, paying particular attention to the old cattle calls. The unaccompanied tenor at the start of "Red Roof" does indeed seem to shout over hilltops, albeit non-traditionally. But as Garbarek explained to The Wire, his studies served rather to confirm his musical approach than change it: "I found what I´d been moving towards playing anyway – something direct, very "loud" in a way, but with a floating, far off feeling as well as the sense of closeness." That this was not exclusively a Nordic direction was proved by the response that Garbarek´s music aroused in listeners and players everywhere. ("You might say," Jan would later remark, "that I live in a spiritual neighbourhood which is scattered geographically around the world.")
Since 1977, Garbarek has looked beyond Scandinavia for his band members. In the late 70´s he enjoyed a close rapport with American guitarist Bill Connors. Connors was a member of Jan´s touring band and played on the Places and Photo With… albums. Garbarek, in turn, played on Connor´s Of Mist And Melting: "Bill is one of the great guitarists. The way he lays behind the beat makes it tremendously exciting to play with him." The other players in the Photo With… band are John Taylor (piano), Eberhard Weber (bass) and Jon Christensen (drums).

Tracklist:
1 Blue Sky 6:41
2 White Cloud 9:03
3 Windows 6:42
4 Red Roof 7:45
5 Wires 5:16
6 The Picture 8:03
Recorded: December 1978, Talent Studio, Oslo.
Released: 25.05.1979.
Personnel:
Jan Garbarek - Soprano Saxophone, Tenor Saxophone, Flute, Percussion
Rainer Brüninghaus - Keyboards
Nana Vasconcelos - Percussion, Voice
Eberhard Weber - Bass
Catalogue No: ECM 1135
Barcode: 042284316828