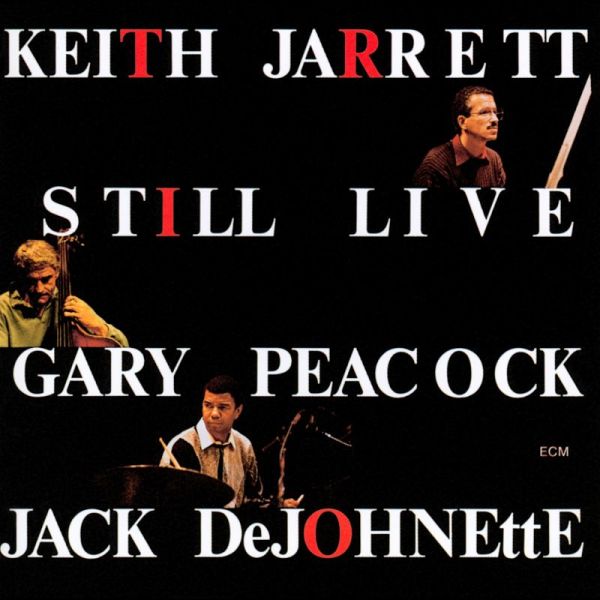 Keith Jarrett Trio (Gary Peacock, Jack DeJohnette), "Still Live" - dubultā skaņuplate, 33.3 RPM, ECM Records.
Šis albums pieejams arī 2CD formātā.
Still Live is a live album by American pianist Keith Jarrett's "Standards Trio" featuring Gary Peacock and Jack DeJohnette recorded in July, 1986 at the Philharmonic Hall in Munich, Germany. The concert was organized an co-produced by Loft and ECM and was part of the "Klaviersommer 1986". It was released by ECM Records in 1988.
As for the 31st Annual Grammy award (1988) the album was nominated in the "Best Jazz Instrumental Performance (Group)" category. So far, up to 2020 there had been no further Keith Jarrett's "Standards trio" nominations.
On his 2002 Records To Die For Lonnie Brownell at Stereophile marks that:
"Over the past 30 years, Keith Jarrett has released 46 albums as a leader on the ECM label. Of these, the best are the 12 recorded with his "Standards Trio," and of these, the best is Still Live. Jarrett and Gary Peacock and Jack DeJohnette flow from Richard Rodgers to Oscar Hammerstein to Harold Arlen to Keith Jarrett to spontaneous free interpretive variation to Charlie Parker and back again, until it no longer matters where Johnny Mercer leaves off and this trio begins, because it is all one tribal dance. On this night in 1986 in Munich's Philharmonic Hall, Jarrett broke through to The Light. After "When I Fall in Love," you wonder that he ever found it necessary to play the piano again."
The Allmusic review by Richard S. Ginell awarded the album 3 stars and states, "Jarrett treats his brace of pop and jazz standards with unpredictable, often eloquently melodic and structural originality". Regarding some critic's particular observations on Jarrett's idiosyncrasies, Ginell adds that "there is a considerable amount of Jarrett vocalizing, though; sometimes he sounds like a tortured animal."

Tracklist:
A1 My Funny Valentine
A2 Autumn Leaves
B1 When I Fall In Love
B2 The Song Is You
C1 Come Rain Or Come Shine
C2 Late Lament
D1 You And The Night And The Music
D2 Extension
D3 Intro
D4 Someday My Prince Will Come
D5 I Remember Clifford
Personnel:
Keith Jarrett – piano
Gary Peacock - bass
Jack DeJohnette - drums
Recorded: In July, 1986 at the Philharmonic Hall in Munich, Germany.
Released: 7.03.1988.
Catalogue No: ECM 1360/61
Barcode: 042283500815