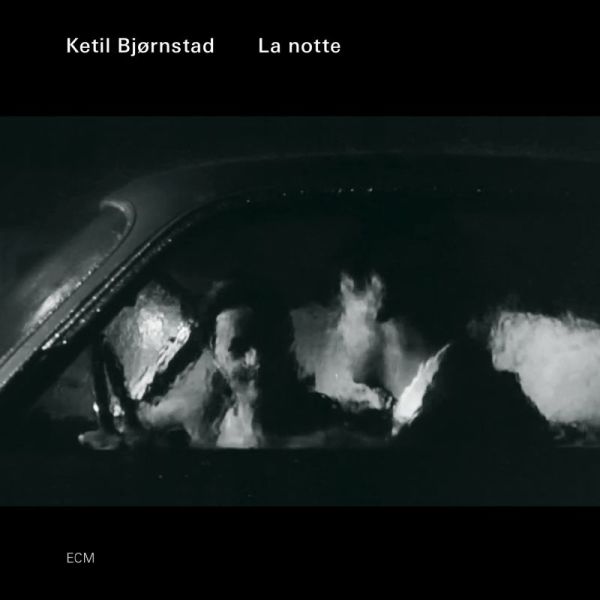 Ketil Bjørnstad, "La Notte" - CD izdevumi, ECM Records.
Commissioned by the Molde International Jazz Festival and recorded live at the Norwegian festival in 2010, "La notte" is a salute to Italian filmmaker Michelangelo Antonioni, whom Ketil Bjørnstad counts amongst his formative influences. "At the same time that I discovered what jazz could be, after listening to Miles Davis' In A Silent Way, I also saw the films by Godard, Bresson and Antonioni. Perhaps it was the slow, rhythmic authority in the films by Michelangelo Antonioni that made me think of music... As long as visual art creates music in our minds, and music creates pictures and visual expressions with the same intensity, the two are deeply and profoundly interdependent". This album, then, can be considered "the soundtrack to an inner film", in which Antonioni's images and atmospheres are translated and transformed through personal moods and memories. For the Molde concert, Bjørnstad convened a special Norwegian-Danish-German-British band of musicians, old and new friends closely associated with ECM. The concert was rapturously received by the media, and described as an "absolutely stunning performance" by All About Jazz.

Tracklist:
1 I 6:53
2 II 8:23
3 III 4:36
4 IV 5:27
5 V 8:31
6 VI 6:44
7 VII 7:04
8 VIII 7:00
Recorded: Recorded live July 21, 2010,
at Molde International Jazz Festival.
Released: 12.04.2013.
Personnel:
Ketil Bjørnstad - Piano
Andy Sheppard - Tenor Saxophone, Soprano Saxophone
Anja Lechner - Violoncello
Eivind Aarset - Guitars, Electronics
Arild Andersen - Double Bass
Marilyn Mazur - Percussion, Drums
Cover: Jeanne Moreau and Marcello Mastroianni from the film "La notte" by Michelangelo Antonioni
Catalogue No: ECM 2300
Barcode: 602537245536