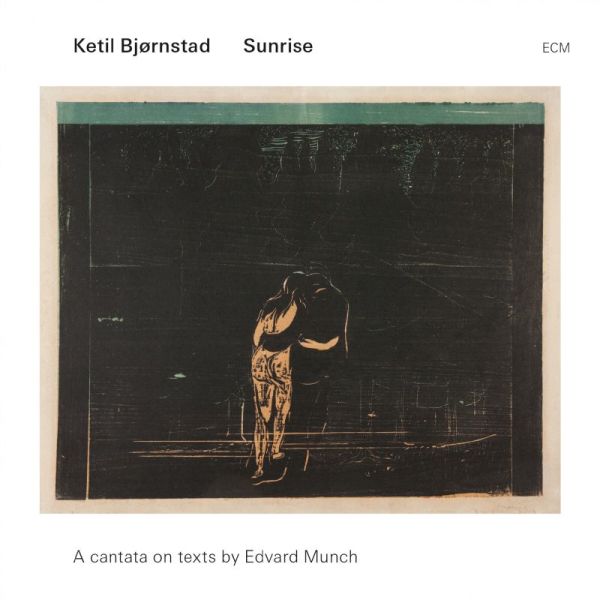 Ketil Bjørnstad, "Sunrise (A Cantata On Texts By Edvard Munch)" - CD izdevums, ECM Records.
Ketil Bjørnstad previously explored the life of Edvard Munch in his acclaimed 1993 novel Historien om Edvard Munch. When invited to compose music for choir in 2011 his thoughts turned once again to Munch and to the writings, still not widely known, of the proto-Expressionist Norwegian painter. With these as his guide, Bjørnstad shaped Soloppgang ("Sunrise") subtitled "A cantata on texts by Edvard Munch". In his liner notes, Bjørnstad observes that "the texts written by Munch can be compared to his paintings in their power and intensity. He wanted to be a writer as well as a painter... texts from different periods in Munch's life have been used in Sunrise. They all portray existentialist dilemmas: surviving or being destroyed, believing or observing." The changing moods of the writings inspire very different musical settings. Sunrise was released first in Norway in November 2013 – in connection with the 150th anniversary of Munch's birth – and met with a most positive critical reception.

Tracklist:
1 En Rovfugl Har Satt Seg Fast I Mitt Indre = A Bird Of Prey Is Clinging To My Inner Being 7:27
2 Moren = The Mother 6:11
3 Intet Er Lite = Nothing Is Small 4:51
4 Jorden Elskede Luften = The Earth Loved The Air 4:31
5 Resitativ I = Recitative I 1:00
6 Stupet = The Cliff 5:21
7 Som I En Kirke = As If They Were In A Church 5:23
8 Intermezzo I 1:49
9 Livets Dans = The Dance Of Life 4:57
10 Åpent Vindu = Open WIndow 4:33
11 Resitativ II = Recitative II 0:57
12 Adskillelsen = The Separation 5:46
13 Intermezzo II 4:09
14 Gravsten = Gravestone 3:59
15 Resitativ III = Recitative III 0:52
16 Alfa Og Omega = Alpha And Omega 5:23
17 De Fineste Nerver Et Rammet = The Most Delicate Nerves Are Affected 4:17
18 Intermezzo III 1:42
19 Soloppgang = Sunrise 5:16
Personnel:
Ketil Bjørnstad - Piano
Kari Bremnes - Vocal
Aage Kvalbein - Cello
Matias Bjørnstad - Alto Saxophone
Bjørn Kjellemyr - Double Bass
Hans-Kristian Kjos Sørensen - Percussion
Oslo Chamber Choir
Egil Fossum - Conductor
Cover: "Towards the Forest I", woodcut © Munch Museum / Munch-Ellingsen Group, BONO 2013.
Recorded: Recorded April 2012, Rainbow Studio, Oslo.
Released: 10.10.2013.
Catalogue No: ECM 2336
Barcode: 602537454792