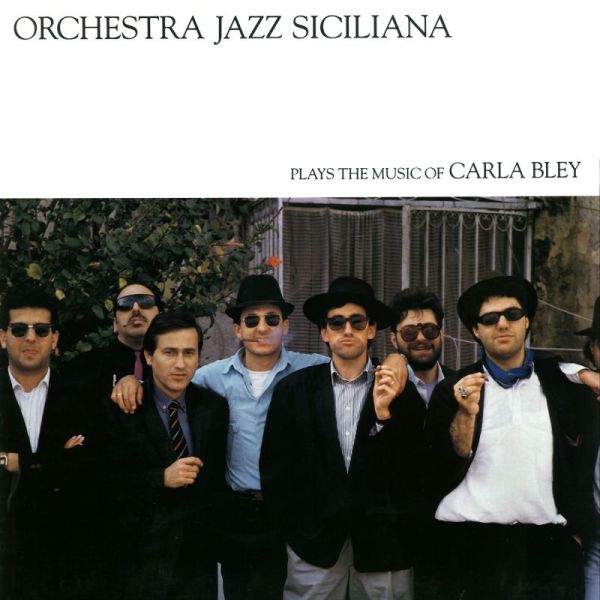 Orchestra Jazz Siciliana, "Plays The Music Of Carla Bley" - skaņuplate, 33.3 RPM, ECM Records.
Šis albums pieejams arī CD formātā.
In response to "an offer they couldn't refuse", the Watt Works family agreed to release this album of Carla Bley's music recorded by the Orchestra Jazz Siciliana, a cigar-chewing, black-hatted, 17-piece big band, who pack more than a few loaded horn cases between them. The orchestra is augmented by Bley band regulars Steve Swallow and Gary Valente, in equally minacious mood, on these live sessions recorded in Palermo in the spring of 1989.
The Sicilian Orchestra tackles compositions previously heard on the Carla Bley albums Musique Mecanique, I Hate To Sing, Dinner Music, Duets, Live! and Heavy Heart, and though Bley herself is conducting, the orchestra's approach transforms the material or, to put it another way, returns it to the jazz tradition. Traditions die hard in Sicily, and this orchestra swings powerfully in the grand manner, like a Mediterranean Basie unit, almost, but for Carla's irrepressible sense of satire and piquant chord changes.

Tracklist:
A1 440, Soloist – G.Valente*, O.Maugeri*, P.Greco*, S.D'Anna* - 6:48
A2 The Lone Arranger, Soloist – G.Valente*, O.Maugeri* - 7:58
A3 Dreams So Real, Soloist – G.Valente*, O.Maugeri*, P.Greco* - 7:33
B1 Baby Baby, Soloist – G.Valente*, M.Greco*, S.Swallow* - 7:31
B2 Joyful Noise - Soloist – M.Greco*, S.D'Anna* - 5:05
B3 Egyptian, Soloist – A.Palacino*, P.Mappa*, S.D'Anna* - 6:19
B4 Blunt Object, Soloist – G.Valente*, O.Maugeri* - 4:02
Recorded:
Tracks A1 to A3:
Recorded direct to 2-track Digital Audio Tape at Brass Group Jazz Club, Palermo, Sicily, May 11-15, 1989
Tracks B1 to B4:
Recorded direct to 2-track Digital Audio Tape in concert at Teatro Metropolitan, Palermo,Sicily, May 16, 1989
Post-production November 1989, at Grog Kill Studio, Willow, NY
Mastered at Sterling Sound, New York, NY
Personnel:
Nico Riina - Trumpet
Massimo Greco - Trumpet
Pietro Pedone - Trumpet
Faro Riina - Trumpet
Giovanni Guttilla - Trumpet
Salvatore Pizzo - Trombone
Salvatore Pizzurro - Trombone
Maurizio Persia - Bass Trombone
Orazio Maugeri - Alto Saxophone
Claudio Montalbano - Alto Saxophone, Soprano Saxophone
Stefano d'Anna - Tenor Saxophone
Alessandro Palacino - Tenor Saxophone, Soprano Saxophone
Antonio Pedone - Baritone Saxophone
Ignazio Garsia - Piano
Pino Greco - Guitar
Paolo Mappa - Drums
Sergio Cammalleri - Percussion
Gary Valente - Trombone
Steve Swallow - Bass
Released: 1.10.1990.
Catalogue No: XtraWatt 4
Barcode: 042284320719