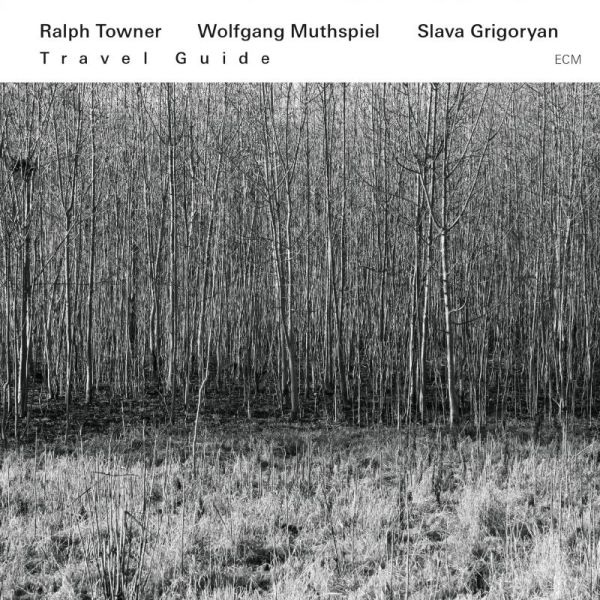 Ralph Towner, Wolfgang Muthspiel, Slava Grigoryan, "Travel Guide" - CD izdevums, ECM Records.
An international summit meeting, "Travel Guide" features US guitarist Ralph Towner, Austrian guitarist Wolfgang Muthspiel, and Kazakhstan-born and Australia-raised guitarist Slava Grigoryan. The three musicians first came together in 2005, initially for concerts in Australia, and have since toured widely. A 2009 recording on Muthspiel's Material Records label documented the group's early progress. Ralph Towner subsequently brought the project to ECM and the trio recorded this album in Lugano in August 2012, with Manfred Eicher as producer. Towner has been a key ECM recording artist for more than 40 years, while Muthspiel and Grigoryan make label debuts here. Grigoryan is well known as the preeminent Australian classical guitarist of his generation, and Muthspiel's been an important figure on the transatlantic jazz scene for two decades, with his own bands and as a contributor to groups of Gary Burton, Paul Motian and many others. What all three guitarists share is a strong feeling for structure, a sense for lyrical improvisation and a feeling for space, harnessing instrumental technique to very graceful musical ends.
Repertoire features five compositions by Towner, and five by Muthspiel.

Tracklist:
The Henrysons 7:04
Father Time 4:37
Windsong 6:43
Duende 4:29
Amarone Trio 5:42
Travel Guide 6:34
Die Blaue Stunde 5:19
Nico Und Mithra 3:44
Tarry 1:03
Museum Of Light 5:17
Personnel:
Ralph Towner - Classical Guitar, 12-String Guitar
Wolfgang Muthspiel - Electric Guitar, Voice
Slava Grigoryan - Classical Guitar, Baritone Guitar
Recorded: Recorded August 2012,
Auditorio Radiotelevisione svizzera, Lugano.
Released: 20.09.2013.
Catalogue No: ECM 2310
Barcode: 602537295081