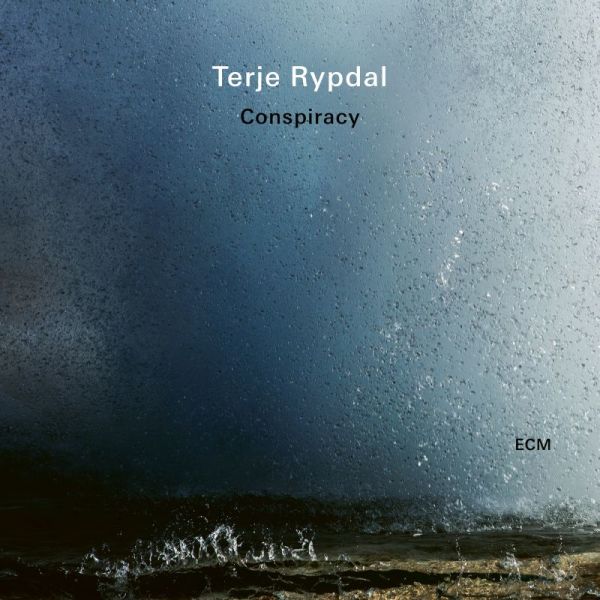 Terje Rypdal, "Conspiracy" - skaņuplate, 33.3 RPM, ECM Records.
Šis albums pieejams arī CD formātā.
A new ECM studio album and a programme of new music from Terje Rypdal is cause for celebration. On Conspiracy the great Norwegian guitarist seems to reconnect with the wild inspiration that fuelled such early masterpieces as Whenever I Seem To Be Far Away, Odyssey and Waves, exploring the sonic potential of the electric guitar with both a rock improviser's love of raw energy and a composer's feeling for space and texture. Keyboardist Ståle Storløkken, who contributed to Terje's Vossabrygg and Crime Scene albums is an ideal co-conspirator, perpetually thickening the plot with his own intuitive feeling for complementary sound-colours. Conspiracy also marks a welcome return for Pål Thowsen, whose subtle, detailed drumming was last heard on ECM with Arild Andersen's 1970s groups. Rypdal's best band in years is completed by gifted young bass guitarist Endre Hareide Hallre.
Conspiracy was recorded at Oslo's Rainbow Studio and produced by Manfred Eicher and Terje Rypdal.

Tracklist:
A1 As If The Ghost... Was Me!? 5:39
A2 What Was I Thinking 5:30
A3 Conspiracy 6:10
B1 By His Lonesome 6:54
B2 Baby Beautiful 8:01
B3 Dawn 2:38
Personnel:
Terje Rypdal - Electric Guitar
Ståle Storløkken - Keyboards
Endre Hareide Hallre - Fretless Bass, Fender Precision
Pål Thowsen - Drums, Percussion
Recorded: At Oslo's Rainbow Studio, February 2019.
Released: 11.09.2020.
Catalogue No: ECM 2658.
Barcode: 602507116309