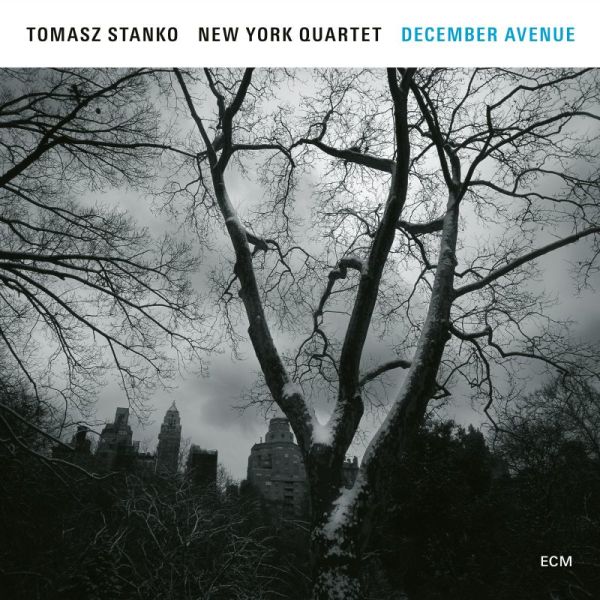 Tomasz Stanko New York Quartet, "December Avenue" - CD izdevums, ECM Records.
Four years after the landmark album Wisława, the great Polish trumpeter Tomasz Stanko's New York Quartet returns with another masterful recording, December Avenue. Always an insightful bandleader, Stanko here encourages spirited improvisation to flower around his characteristically melancholic and soulful themes, and all players are presented to best advantage. New band member Reuben Rogers – originally from the Virgin Islands and perhaps best-known for his work with Charles Lloyd – is a splendid addition to the team, establishing a profound understanding with Cuban-born pianist David Virelles and Detroit drummer Gerald Cleaver. JazzTimes, reviewing the band in concert, reflected on the strengths of the individual players: "Stanko has never had a piano player like Virelles. When his moments came, he configured his own lyrical domain within the world of a Stanko song. For that matter, Stanko has never had a bassist and drummer like Rogers and Cleaver, with their hard edges and their volatile energy."
December Avenue was recorded at Studios La Buissonne in the South of France in June 2016 and produced by Manfred Eicher.

Tracklist:
Cloud 4:13
Conclusion 2:01
Blue Cloud 8:52
Bright Moon 7:19
Burning Hot 5:05
David And Reuben 1:30
Ballad For Bruno Schulz 6:26
Sound Space 4:04
December Avenue 6:33
The Street Of Crocodiles 6:08
Yankiels Lid 6:07
Young Girl In Flower 5:57
Personnel:
Tomasz Stanko - Trumpet
David Virelles - Piano
Reuben Rogers - Double Bass
Gerald Cleaver - Drums
Recorded: Recorded June 2016,
at Studios La Buissonne, Pernes-les-Fontaines.
Released: 31.03.2017.
Catalogue No: ECM 2532
Barcode: 602557263022