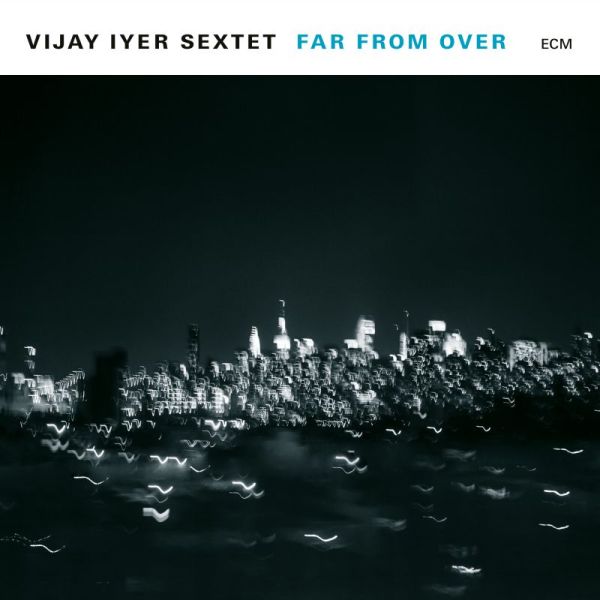 Vijay Iyer Sextet, "Far From Over" - dubultā skaņuplate, 33.3 RPM, ECM Records.
Šis albums pieejams arī CD formātā.
Keyboardist-composer Vijay Iyer's energized sequence of ECM releases has garnered copious international praise. Yet his fifth for the label since 2014 – Far From Over, featuring his dynamically commanding sextet – finds Iyer reaching a new peak, furthering an artistry that led The Guardian to call him "one of the world's most inventive new-generation jazz pianists" and The New Yorker to describe him as "extravagantly gifted… brilliantly eclectic." Far From Over features this sextet of virtuoso improvisers – with horn players Graham Haynes, Steve Lehman and Mark Shim alongside rhythm partners Stephan Crump and Tyshawn Sorey – leveraging a wealth of jazz history even as it pushes boldly forward. The music ranges from the thrillingly explosive ("Down to the Wire," "Good on the Ground") to the cathartically elegiac ("For Amiri Baraka," "Threnody"), with melodic hooks, entrancing atmosphere, rhythmic muscle and an elemental spirit all part of the allure.
"This group has a lot of fire in it, but also a lot of earth, because the tones are so deep, the timbres and textures," Iyer says. "There's also air and water – the music moves."

Tracklist:
A1 Poles 7:49
A2 Far From Over 6:15
A3 Nope 5:41
B1 End Of The Tunnel 2:17
B2 Down To The Wire 7:43
B3 For Amiri Baraka 3:22
B4 Into Action 5:00
C1 Wake 4:46
C2 Good On The Ground 6:32
C3 Threnody 8:24
Personnel:
Vijay Iyer - Piano, Fender Rhodes
Stephan Crump - Double Bass
Tyshawn Sorey - Drums
Steve Lehman - Alto Saxophone
Mark Shim - Tenor Saxophone
Graham Haynes - Cornet, Flugelhorn, Electronics
Recorded: April 2017, Avatar Studios, New York, Mixed May 2017.
Released: 25.08.2017.
Catalogue No: ECM 2581
Barcode: 602557797732