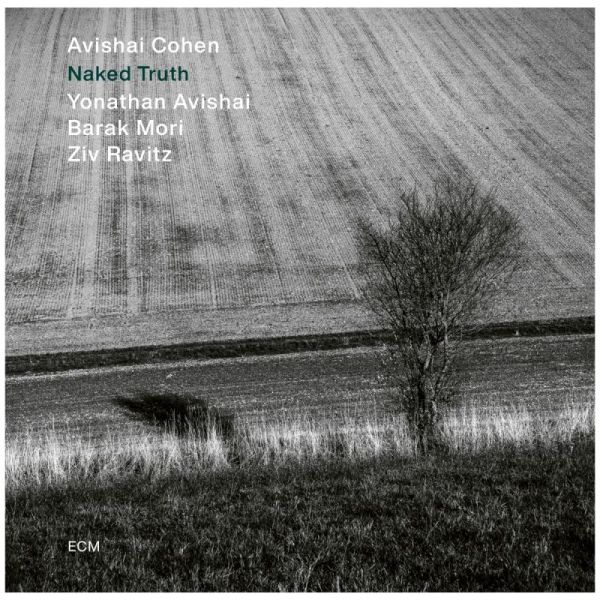 Avishai Cohen Quartet, "Naked Truth" - CD izdevums, ECM Records.
There is a searching, yearning quality to Naked Truth, and a raw beauty and vulnerability in Avishai Cohen's trumpet sound on his most improvisational ECM recording to date.
Very much music-of-the moment, found and shaped in the course of a remarkable recording session in the South of France, Naked Truth takes the form of an extemporaneous suite. For most of its length the Israeli trumpeter painstakingly leads the way, closely shadowed by his long-time comrades – pianist Yonathan Avishai, bassist Barak Mori and drummer Ziv Ravitz - who share an intuitive understanding, hyper alert to the music's subtly-changing emphases.
At the album's conclusion, Cohen recites "Departure", a poem by Zelda Schneurson Mishkovsky, whose themes of renunciation, acceptance and letting go seem optimally-attuned to the mood of the music.
Naked Truth was recorded at Studios La Buissonne in Pernes-les-Fontaines, in September 2021, and produced by Manfred Eicher.
The 180g vinyl version will get available in autumn 2022.

Tracklist:
Naked Truth - A Suite In Nine Parts
1 Part I 1:51
2 Part II 5:06
3 Part III 5:49
4 Part IV 7:37
5 Part V 2:06
6 Part VI 0:50
7 Part VII 2:47
8 Part VIII 4:29
9 Departure, Read By – Avishai Cohen*, Translated By [from Hebrew] – Avishai Cohen*, Sharon Mohar, Words By – Zelda Schneurson Mishkovsky - 4:28
Personnel:
Avishai Cohen - Trumpet
Yonathan Avishai - Piano
Barak Mori - Double Bass
Ziv Ravitz - Drums
Recorded: Recorded September 2021, Studios La Buissonne, Pernes-les-Fontaines.
Released: 25.02.2022.
Catalogue No: ECM 2737
Barcode: 602438995943